North East
BSF Nabs Bangladeshi Smugglers with Wooden Logs, Seized Cattles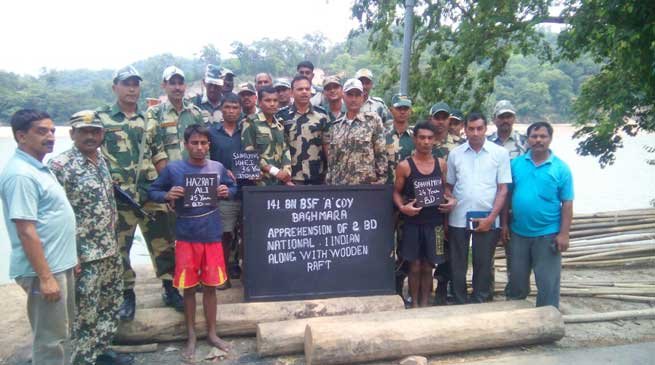 Shillong
The BSF troops apprehended two Bangladeshi Smugglers with Wooden Logs and seized atleast 14 Cattles in two different places.
In the First incident BSF troops  apprehended two Bangladeshi nationals and  one Indian national while a suspected movement was noticed in the Simsang river in Saouth Garo Hills. BSF troops apprehended them after a Ambush when smugglers were trying to smuggle a wooden raft through Simsang river. T
he apprehended Bangladeshi smugglers were identified Md Harjad Ali (25 Yrs), and Md Sahil Miya (24 Yrs), both are resident of Village Karnarkali Bari, of  Netrakona district , Bangladesh.
One  Indian national  namely Swothlyngkhei (36 Yrs), resident of Vill- Jakrem, of South West Khasi Hills district (Meghalaya) , was also apprehended from the spot moving suspiciously.
Later, after questioning it was revealed by the apprehended Bangladeshis nationals that their Indian associates were handing them over a raft of wooden logs where they were supposed to take to Bangladesh.
Apprehended smugglers also revealed names of few of their associates in India and Bangladesh.  The smugglers have been involved in frequent deforesting for getting huge money after smuggling the wooden logs and other forest produce. But the determined BSF troops are keeping a regular vigil to foil any such attempt and has succeeded to make several seizures.
The troops of Border Security Force have been putting their valiant efforts to seize these huge consignments of wooden logs. With onset of the rainy season the increasing level of water poses threat to the human life in the meantime antinational elements also try to exploit this adverse condition. During his recent visit at Baghmara Sh. P. K. Dubey, Inspector General, BSF had activated some new sources which has now started yielding out puts.
In an another incident, the BSF troops deployed at Lukaichar, South West Garo Hills district of Meghalaya seized 14 cattle while being smuggled to Bangladesh. The smugglers were driving a cattle herd during the night, trying to cross the International Border into Bangladesh. But BSF troops once again foiled their attempt to smuggle these cattle to Bangladesh. The Border Security Force of Meghalaya frontier has strengthened operations on Indo-Bangladesh Border to check Trans -Border activities across the Border.
 Apprehended person and along with seized items handed over to police for further legal action.