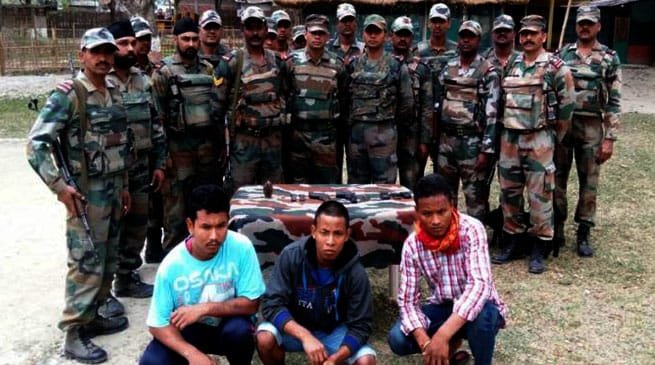 Baksa
Based on specific information of movement of three NDFB (S) Terrorist received from Army Intelligence, a team of Indian Army launched a joint operation with the Assam Police on Saturday and arrested three NDFB (S) Terrorist  moving through village Hakata in Baksa district.
The Cadres have been identified as Jwangsar Boro @ KK, Mohit Mushahari @ pulok and Pramod Ramchiary @ Khankari @ Raja.
There cadres were actively involved in extortion, arms smuggling and other nefarious and anti national activities from around 2009-10 till Adivasi carnage in Dec 2014 and had run away and sheltered themselves in Chennai, till their return.
Two 7.65mm Pistols along with 04 live rounds of 7.65mm, One hand grenade and three mobile phones were recovered from the apprehended cadres.
Mohit Misahary is 39 Batch NDFB Cadre trained in Myanmar. The apprehension of these important cadres is significant move towards thwarting the subversive plans of NDFB (S) for upcoming elections.
All three cadres have been handed over to Police Station Barama on Sunday.