Itanagar
Book review on 'Resonance: Echoes of Life' by Nending Ommo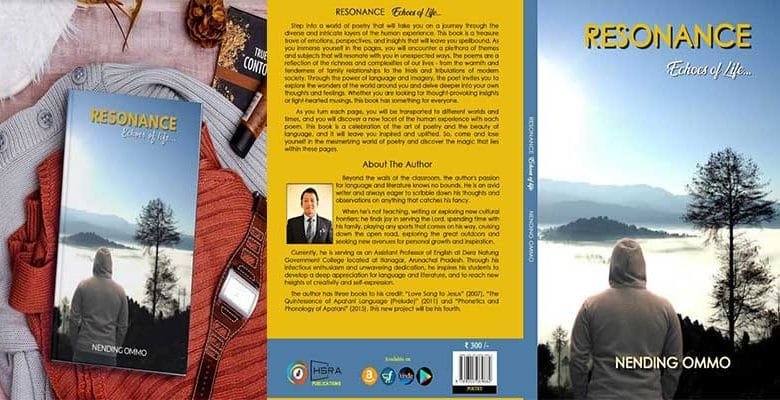 Book review on 'Resonance: Echoes of Life' by Nending Ommo-  The latest buzz among literati of Arunachal Pradesh is Mr. Nending Ommo, serving as an Assistant Professor at Dera Natung Government College, Itanagar. He belongs to the Apatani tribe resident of Ziro, a native of Hari Village. After completing his schooling in the schools of Arunachal Pradesh, he went on to pursue his higher education in metro cities of India. 'Resonance: Echoes of Life' is his fifth endeavour in the line of his publications. Besides teaching, he divides his free time between family and his passion for writing- books, verses, or anything that catches his creative sense.
'Resonance: Echoes of Life' is an exquisite example of what an avid writer he is! In this compendium of poems, he rhapsodised his thoughts about the different schema of life. His ideas get easily transmitted and absorbed by the reading public.  He unfolds a sequence of human experiences that blooms out into 'The Bond', 'Casual Rebel', 'A Choice', 'Virtual Strings', 'Sacred Ink', 'Pastoral Paradise', 'The Calling', and 'Alter Ego (I am)'. This skilfully crafted book of poems mirrors a plethora of themes and subject matters that will make a reader resonate with oneself. Reader's journey alongside the poet to the world of his personal experiences and observations and on numerous topics of relevance that are voiced by him. All in all, the poems have a touch of humour, cadence, and wisdom.
One of the obvious resounding themes in this anthology of poems is that of familial bond, a vital part of human existence, in all its forms. Pure and selfless love is the core centre that binds a relationship: parent and child, husband and wife, siblings, and cousins. Different shades of emotions come oozing out as pages are turned: – regret and respect of a son for his dead father in "Ode to My Aaba", reverence for a mother in "Female God", love and tenderness for a son in "Be a Child Forever", jest and cheers for a brother in "Eternal Bond", care and affection for his sisters in "My Strength", the positivism of growing old with his better half in "Marriage Tale". Yet the strongest and deepest emotion surges up in "Will I die?"; when in the pandemic during the lockdown a son with a positive case calls up his father who is away from home and asks, "Will no one play with me again? Will I die, Aaba?" The fear and tension of the child come across in full force and will pierce right through the hearts of the readers. The section also conveys the universality of thought and truth in "The Gift from Above,"
Family is the gift from God above,
A bond of pure and endless love,
A shelter from life's stormy weather,
That binds our hearts and souls together.
'The Casual Rebel' is unique, riveting, and humorous in its discussion of aging, bulging tummy, or the fashion sense. The speaker very well understands and embraces the changing shapes and wrinkles as he says it is just a funny part of this earth and the best way to deal with aging is to chuckle away and enjoy the journey with all its inconveniences. But the funniest and most boisterous is the "Un-shaped Ambition" where a child is presented as having a pure and jocular ambition of becoming a "Hotel Baaje" which means "hotel servant." The aroma of eatables like bread, and cookies lured the innocent child to have such an ambition. One fine day he actually gets a chance to work in the hotel and the reality check is ascertained when he comes face to face with his father,
As I waited, I got a chance one day,
A mop on shoulder, tray in hand; I dashed my way
To clean the dirty tables and make it neat,'
For the unknown guest who'd soon take a seat
As soon as I stepped out, I saw in dread,
My Dad seated amongst the guest ahead,
His eyes on me staring, I froze in fear,
Sweating; I wished right there, I could disappear.
———————————————————
———————————————————-
My grand ambition, a moment ago seemed so gold,
Swayed away as my Dad's stern stare took hold,
Realigned to a different path just there to one untold,
Dad's Gaze had the power to un-shape my mould.
In his works, as a poet and a writer Nending Ommo often trace back to his roots. In the section 'Pastoral Paradise', he validates from a micro to a macro perspective. First, he presents to the reader his birthplace "Ziro, the Pastoral Paradise" as a land of beauty amidst the rolling hills and fertile fields. He is forever bound to this place with one soul and one being. Then, the landscape of Arunachal Pradesh comes alive in "The Land of Dawn-Lit Mountains" as the land of dawn-lit peaks, with "The misty hills, the sparkling streams, / The waterfalls that flow like dreams," makes this place charming, divine, and grand where many tribes with varied cultures dwell in harmony.  In 'I am An Indian' the poet echoes his Indianness. Although he differs in his looks, stature, food habits, dress, and even religious practices yet he is an Indian to the core and takes pride in being one. The burning issue of the identity crisis faced by the people of Arunachal Pradesh is addressed in "Just Be Guests" due to innumerable infiltration of outsiders who have come here as government employees, daily wagers, and businessmen who decide the fate of our political scenario. He opines humbly,
For political power rules the game,
And decides the fate of our land's name.
Let's stand with pride and take control,
To secure our future, our very soul.
Let's wake up now, it's the time to act,
To safeguard our land and to protect.
If they need permit to enter our state,
Why should they hold our political fate?
………………………………………..
……………………………………….
Come as guests, live as guests,
Share as guests, be our guests
Be just our guests, but leave as guests.
In the section 'Sacred Ink' readers are immersed in the folklore and issues related to the Apatani tribe and the poet entreats on preserving culture and identity otherwise it would soon become a relic of the past. The poem, "The Sacred Ink" brilliantly narrates an interesting history of Apatani tattooing alluding to the mythical characters preserved in oral narratives for centuries. Tattooing represents feminine beauty, power, and prosperity.
Ommo is not only a verse writer but also a powerful storyteller. In the section 'Alter Ego (I Am)', innermost feelings are dispensed about the disillusioned love life of his alter ego self.  All poems in this section are interrelated from the first poem "Love at First Sight" to "Until to My Grave." If one reads carefully, one will find a storyline of a boy who falls in "Love at the First Sight" with a girl, and he expressed his love through "The First Love Letter" he wrote, which resulted in strong flaming love but "Love's Paradoxical Fate" fail to contain, and brought about a painful separation with "Neither Your Fault nor Mine". Thereby, experienced "Eternal Longing" that made him "A plea for Redemption" for her to come back and start anew, but understanding dawned that it would never happen so, he consoled and encouraged himself to cry out and let tears flow undisrupted to unburden the striking pain unlike the social norms "Boys Don't Cry". To keep updated on her life's activities he turns into a "Silent Lurker". He collects his love-shattered life and says "I Forgive You" though in great pain and promises all in vain. "Forever and a Day" he prayed for her well-being and finally confirms that he would take this experience of love profoundness "Until to My Grave",
My love for you remains ever true,
Even though we've said our final adieu.
Though we have our separate roads,
My love for you within me explodes.
Be calm, your name is safe within my heart,
And from my lips it shall never depart.
I value your privacy and your security,
I'll never speak of us, hidden with utmost purity.
Your name, our secrets; are guarded within me,
Until to my grave, lips sealed, not a word to any.
Nending Ommo connects to you in this collection as a father, son, brother, friend, lover, and husband in quatrains of different lengths. The lyrics of the poems are lyrical, rhyming, and rhythmic. It gives a sense of musicality as one reads. The language used is lucid, simple, and easy to grasp. Though some dialectical words are inserted here and there, it doesn't impede the smooth reading and understanding of any ideas conveyed. He is a master of written words and the vastness of contents that is of relevance authenticates him to be in the making of a great poet in years to come.
As one sails smoothly through the sea of poems an individual is sure to discover a new route of emotions, ethnicity, edification, and entertainment that relates and reverberates to one's life. 'Resonance: Echoes of Life' is a must-have book for all poetry lovers of all ages because there is something in it for everybody that will appeal to their senses, thought-provoking, and satiate their appetite for those hankering for more.
(The author of this article is Ms. Anku Nani who is an Assistant Professor in English posted at Government Model College Basar. She can be reached at ankun9@gmail.com)