Itanagar
e-office Training Programme for Cabinet Ministers and Parliamentary Secretaries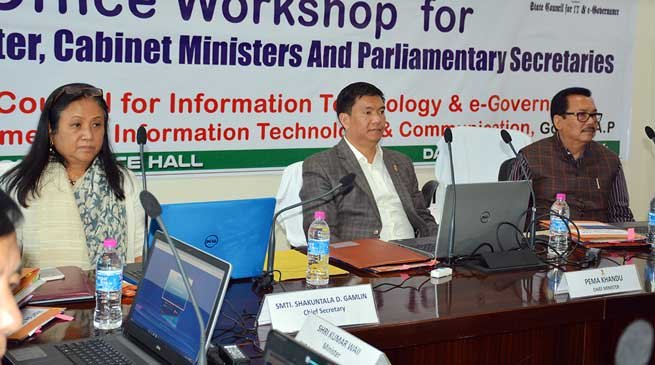 Itanagar
In an another attempt to make the state completely digital savy, Pema Khandu, Chief Minister of Arunachal Pradesh at Civil Secretariat, Itanagar inaugurated the , e-Office Training Programme for all  Ministers and Parliamentary Secretaries at the HCM Conference hall, Civil Secretariat.
The Department of IT & C is committed to make the entire Civil Secretariat paperless by the end of this year as per cabinet decision held in meeting dated 20.08.2016.
The e-office Mission Mode Project has been taken up by the Department of Administrative Reforms and Public Grievances (DAR&PG), Govt of India in order to improve efficiency in government processes and service delivery mechanisms. NIC(National Informatics Centre) is the technology partner of DARPG for implementing e-Office MMP.
e-Office is aimed at increasing the usage of work flow and rule based file routing, quick search and retrieval of files and office orders, digital signatures for authentication, forms and reporting components.
e-Office framework (Premium version) presently consists of e-File, e-Leave, e-Tour, Knowledge Management System , Personnel Information System, Collaboration & Messaging Systems.
The product is based on the Central Secretariat Manual on e-Office Procedures (e-Manual) based on the Central Secretariat Manual on Office Procedures.
e-Office is not merely an initiative for office automation but also a highly citizen oriented reform. As a result of e-Office, the offices would have less paper work, and the ambience of the office will substantially improve. The delays in the movement of papers and files will be greatly reduced. The common citizen will get much better services from the Government Departments, and will also find the atmosphere pleasing and welcoming.
In Arunachal Pradesh, Hon'ble Chief Minister Shri Pema Khandu inaugurated e-Office by signing an e-file for Dept of IT & Communications on 16th Aug-2016. Simultaneously, the Department of Information technology, Administrative Reforms and Personnel were on-boarded in eOffice.
Further, a decision has been taken in Cabinet Meeting on 20th Aug-2016 to implement eOffice across all the Departments in the secretariat by the end of Year-2016 as a part of e-Governance initiatives to usher in paperless and transparent governance practices in the State.
Accordingly, Department of IT & Communications as per the direction of Chief Secretary, GoAP in collaboration with NIC has organized training for all Ministers and Parliamentary Secretaries  and their PS/PA on 18th Aug-2016 followed by tentative training for departmental users of all Departments from 22nd Nov'2016 to January 2017.
Further to this, Arunachal is amongst one of the first states in the country to incorporate e-sign as part of e-office. E-sign includes Aadhar based Digital Signature and doesn't require any USB dongle. One can do e-sign from any platform and any device easily. The first digitally signed orders regarding implementation of e-office were issued by all the Hon'ble Ministers present during the training.
On this occasion the Hon'ble CM appreciated the efforts of the NIC team and Department of IT to deploy e-office in all the Departments of Secretariat. He also instructed all HODs to ensure that immediately post completion of the training, all new files are moved only in e-office system. The Department of IT has issued a complete schedule of training for all the officials of various departments of Secretariat.