Arunachal
Arunachal : Pema Khandu unveils state's holistic planning approach for comprehensive development
Khandu said that planning is the foundation for people centric programs that the state government implements to achieve holistic development across the length and breadth of the state.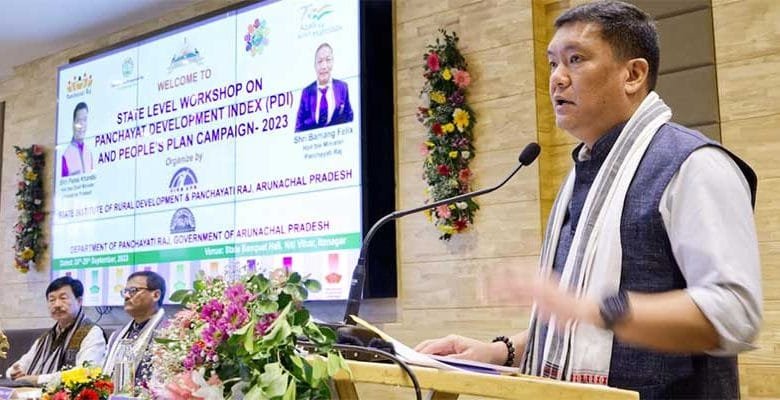 ITANAGAR-  Chief Minister Pema Khandu today revealed that by next year a new and holistic process of planning will be in place for the state government to ensure foolproof planning and implementation.
Speaking at the launching ceremony of the two-day state level workshop on 'Panchayat Development Index (PDI) and PPC-2023' here this morning, Khandu said that planning is the foundation for people centric programs that the state government implements to achieve holistic development across the length and breadth of the state.
"At the national level Prime Minister Narendra Modi says that India will develop only when the North East develops. Here in the state, we say Arunachal will develop only when its villages develop," he said.
Emphasizing that the traditional method of compiling the state plan and the state budget has to be changed for better outcome, Khandu informed that the state government is preparing a roadmap for its planning process that will be rolled out probably by next year and urged the PR members, especially of the Gram Sabha to equip themselves with all basics of program planning and implementation.
He said that the 2-day workshop with technical sessions by experts from Delhi is the best platform for them (PR members) to gain knowledge and expertise on nitty-gritties of planning and program implementation at the grassroot level.
"From across the state you have come to this workshop. Don't shy to admit ignorance. Clear your doubts. Subject experts have come all the way from union ministry of Panchayati Raj, New Delhi. Question them. Equip yourself to deliver once you are back in your villages," Khandu advised.
He explained that the Panchayat Development Index (PDI) is a unique statistical instrument evolved by the central government to measure the progress of a Gram Panchayat (GP) at nine thematic areas. They are poverty free and enhanced livelihoods village, healthy village, child friendly village, water sufficient village, clean and green village, self-sufficient infrastructure in village, socially just and socially secured panchayat, village with good governance and women friendly village.
Arunachal & Norway-based research centre sign pact to survey geothermal energy resources in state
Khandu urged all stakeholders to upload and update correct data to the PDI portal so that the correct picture of the village or gram sabha is portrayed based on which the government will make plans and programs.
He informed that PDI is a multi-domain and multi-sectoral index that is intended to be used to assess the overall holistic development, performance and progress of panchayats. It takes into account various socio-economic indicators and parameters to gauge the well-being and development status of local communities within the jurisdiction of a panchayat.
"Incorrect projection of data will hamper proper planning process. So never hide anything even if it portrays a bad image of your panchayat," Khandu insisted.
He mentioned the immediate areas where Panchayats should focus are those related to Panchayat Development Plans, Panchayat Development Index, Localization and Achievement of Sustainable Development Goals.
Expressing concerns over non-submission of utilization certificates by most of the PRIs of the state that reflects poor performance, Khandu reminded that while 70% of the government grant has been released to the PRIs, the release of the remaining 30% is based on performance of the respective PRIs.
Also Read- Pema Khandu assures cash incentives to state Wushu players who could not participate in Asian Games
"I see only few PRIs including those of Longding and East Kameng districts have performed well so far. I urge upon other districts to buckle up and start performing lest they lose out on the remaining 30% grant," he appealed.
Khandu, however, advised the state's Panchayati Raj department to consider release of the 30% grant on pro-data basis for once so that non-performing PRIs do not lose out on their share.
The launching ceremony was also attended by panchayati raj minister Bamang Felix, MP Tapir Gao, Chief Secretary Dharmendra, union ministry of panchayati raj director Ramit Maurya and others.