Itanagar
Arunachal: Review Meeting on Swachhata Hi Seva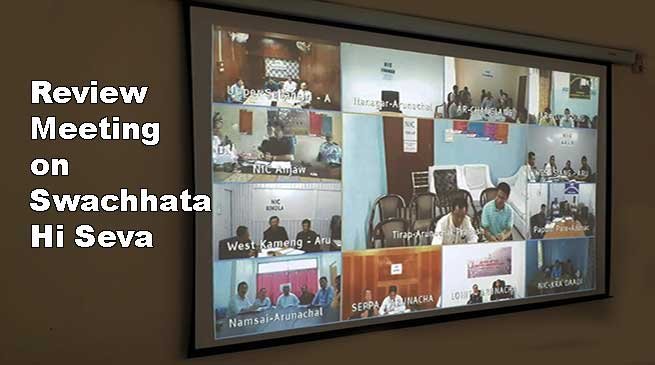 The Chief Secretary of Arunachal Pradesh reviewed preparation being made by the District Administration with regard to the Swachhata Hi Seva in their respective districts.
---
Itanagar
A meeting was held under the Chairmanship of Chief Secretary Naresh Kumar with all Deputy Commissioners through video conference in the CS's Conference Hall of Civil Secretariat to discuss disposal of plastic waste sanitation campaign under 'Swachhata Hi Seva' on 14th September (Saturday). PCCF Lalram Tangha, A.K. Shukla Chairman APSPCB, S.K. Jain Secretary UD and all concerned were also present in the meeting.
The Chief Secretary reviewed preparation being made by the District Administration with regard to the Swachhata Hi Seva (SHS) in their respective districts.
For effective monitoring of the implementation of SHS, CS advised them to constitute a Committee at district level with Deputy Commissioner as the Chairman with local bodies and other representative of concerned departments as members.
Directing the DCs to implement all the activities of the SHS as per the guideline, CS directed the DCs to put all their heart and soul into the entire exercise for success of this massive countrywide awareness and mobilization campaign on Swachhata with special focus on plastic waste awareness and management which was launched on 11th September by the  Prime Minister Narendra Modi.
Emphasizing on strict monitoring, participation and implantation, he said it is a collective responsibility to bring a sustainable environment.
Activities under the SHS from 11th September to 27th October includes, awareness activities, collection of plastic waste from circle/village level, segregation, recycling, and effective disposal of the plastic etc.
General Manager National Highways and Infrastructure Development Corporation Ltd (NHIDCL), Ziro was also present in the meeting. He enlightened the members on the use of treated Plastic (in place of bitumen) which doubles the longevity of the road with lesser costs.
Chief Secretary  Naresh Kumar asked them not to leave any stone unturned and advised them to use the occasion of Gandhi Jayanti (2nd October, Shramdaan) to bring the population on cultural platform to disseminate information and awareness on the elimination of Single Use Plastic.
He also suggested the District Administration could identify one popular personality of their respective districts whom they could appoint as brand Ambassador/Face to carry out the message of SHS to the last person in the district.
He further directed all the Deputy Commissioners to send daily reports on SHS and its implementation to the Chairman Arunachal Pradesh State Pollution Control Board (APSPCB) and Secretary UD.