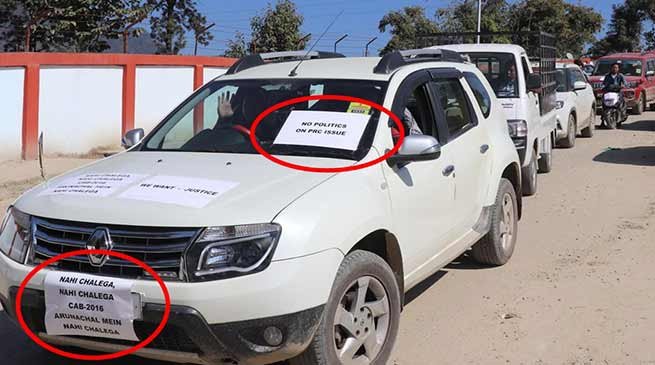 AITF and several organisation protest against CAB, PRC and TAH issue, carry rally and sit on dharna in Itanagar.
---
Itanagar
Arunachal Indigenous Tribes Forum (AITF) today carried out protest rally  condemning the central government action on Citizenship Amendment Bill-2016, declaration of PRC as new year gift, and inaction to build Trans Arunachal Highway.
AITF  in collaboration with the entire Community Based Organisations have organised  'Peaceful Car Rally' from Nyikum Nyia Complex, Nirjuli to Indira Gandhi Park, Itanagar, today to register strong protest against the Citizenship Amendment Bill-2016  in Lok Sabha.
Protesters also demanded immediate start of construction of Trans Arunachal Highway (TAH) from Potin to Pangin  and roll back of statement on issue of PRC to non APST.
The protesters holding play cards, Shouting slogans ' we oppose Citizenship Amendment Bill', 'Highway to jaldi banao',  PRC nahi melaga" etc.
Addressing the rally AITF President Bengia Tolum said that during the visit of  Union Minister of Road Transport and Highways Nitin Gadkari at Ziro on December 20 a memorandum was submitted enclosing our earlier memorandum to the highest office of the state Government as under on the same matter.
WATCH VIDEO 
He said that the state Government to book the culprits of the highest ever multi-crore compensation scam in the state as revealed in the Fact Finding Committee Report submitted to the State Government on 17lh September 2018.
On Citizenship amendment Bill Tolum said that  we have send letter to Chairman, Joint Parliamentary Committee on Citizenship (Amendment) Bill 2016  Rajendra Agrawal and have  expressed our resentment for not visiting our state for public hearing on CAB-2016  spelt out the precarious demography, unique identity and socio-cultural ethos of the state, infested with Chakma and Hajong Refugees.
The refugees have been dumped in the state without any consultation to the people by the Government of India and hence, in the interest of our future generation, we decided to 'give our today for our future' and thus, vehemently oppose implementation of Citizen (Amendment) Bill 2016 in Arunachal Pradesh for its anti-tribal and anti-indigenous nature of policy.
Several organisation leader address the gathering. at IG Park, some of them spoke on PRC, CAB while few speak on TAH and demanded immediate redressal.