Itanagar
TBS & IBSC Members meet with CM, Dy CM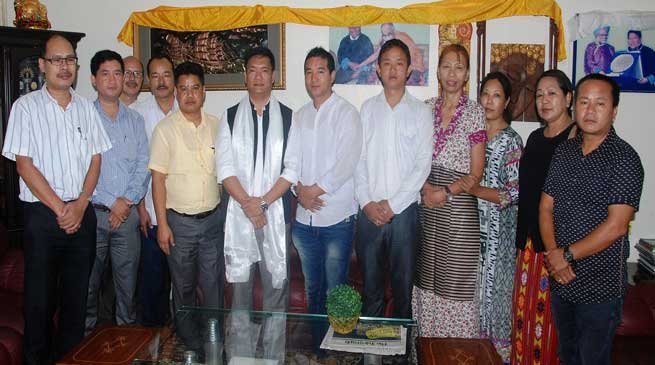 Itanagar
The members of Theravada Buddhist Society (TBS) and Itanagar Buddhist Cultural Society (IBCS) led by its General Secretary TBS Chau Dhanyo Mungyak and President IBCS Sonam Tenzin paid courtesy call on Chief Minister Pema Khandu and Deputy Chief Minister Chowna Mein at their respective residence in Itanagar on Monday.
The members congratulated and felicitated Khandu and Mein on assuming the office. They appraised Chief Minister and Deputy Chief Minister of the works and initiatives carried out by the Buddhist Society of the both Mahayana and Theravada Sect in Arunachal Pradesh.
Appreciating the works carried out by the Buddhist societies, Chief Minister Khandu appraised that his government will work for overall development of the State in all fronts and sought cooperation from all quarters to work under the mantra of Team Arunachal.
Meanwhile, Deputy Chief Minister Mein thanking the TBS & IBCS members for paying him a visit appreciated the efforts of the Buddhist Societies in promulgating the teaching of Lord Buddha and the endeavor to keep intake the traditional and cultural heritage of both Mahayana & Theravada Sect in the State. Mein also assured to look into the grievances placed by the societies.
Mein informed that under young leadership of Khandu the State will see progress in all fronts as his thoughts are matured and has clear vision for development of the State and its people.
The members of Theravada Buddhist Society included C.W.Lohan, C.M.Thaumoung, C.W.Mancheykhun and C.B.Namchoom while members from Itanagar Buddhist Cultural Society comprised of Dorjee Wangdi Thongon, Genden Sangmo, Dr Nawang Norden, Sonam Phuntso and Donka Lhamu.