Itanagar
Third Convocation of NIT Arunachal Pradesh Held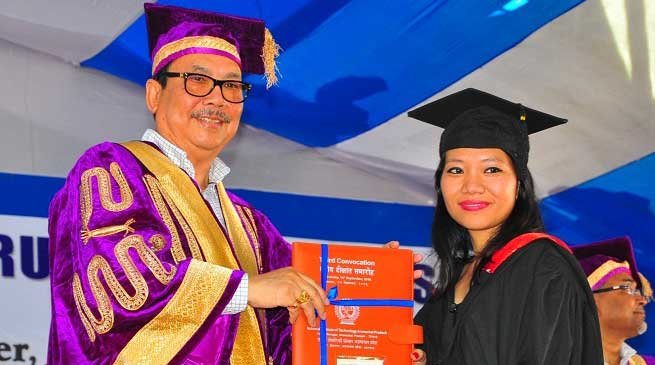 Itanagar
National Institute of Technology ( NIT ), Arunachal Pradesh achieved another milestone as the third batch of students has been awarded their degrees in its third Convocation today.
Deputy Chief Minister of Arunachal Pradesh, Chowna Mein while attending the third Convocation of National Institute of Technology, Arunachal Pradesh as Chief Guest said that the higher educational institutions including the NlTs have to play a larger role in the progress of the regions in which they are based.
He called upon them to establish connection with stakeholders, identify problems hindering the development of the regions, and use their academic and research expertise to find solutions, beyond their academic domain.
Mein said, "in a state like Arunachal Pradesh with extremely poor road conditions and harsh climatic conditions and difficult terrains frequented with landslides and erosion due to flooding of rivers, inadequate quality control and supervision mechanism, technological bottlenecks, earthquake impact etc., the NITAP and other such Institutes located in the region have to play an active role in advisory capacity". He exuded confident that central institutions like NlTs will spur the development of our nation through the collective development of their regions.
Cy CM emphasized to give preference on research and innovation in academic development of NITs. He said that MOUs for research collaboration executed with foreign institutions have to be tracked regularly to ensure their efficacy.
He further said that the IITs /NITs are centers of creative excellence, which have always believed in promoting entrepreneurship and appealed to the students to make best use of the resources and come up with innovations through Research & Development activities, which leave behind a deep imprint in the annals of history.
He further said that the govt under the leadership of young dynamic Chief Minister, Pema Khandu is according top priority on education sector, especially in higher and technical education for human resource development.
He exhorted the passing out students to be teacher of tomorrow, a leader of the nation and global missionaries in the fields of science, engineering and technology in particular.
He praised the management and faculty members of NIT Arunachal Pradesh for their energy, dynamism and commitment for steering the Institute in its formative years. He expressed happiness that the Institute has been ranked at grade 'B' out of the existing A, B, C, grade of accreditation. He said that the achievement had placed NIT-AP at a high national rank of 19 in the NIT ranking system among 31 NITs in the country.
Director of NIT-AP, Prof. C.T. Bhunia informed that NIT-Arunachal Pradesh is the fastest growing NIT among the 10 new NITs established by Ministry of Human Resource Development, Govt. of India in 2010. Over the last 5 years, the Institute has grown vastly and profoundly and the Institute is running seven 4-years B.Tech programmes, six M.Tech programs four MS programs besides several Ph.D programmes and MBA online. It is catering more than 700 students and 100 employees.
He informed that NIT-AP has produced a brilliant pool of young engineers who are working in reputed Industries like IBM, Infosys, Power grid, Wipro, L&T Construction, AMDOCS, Huawei, Robert Bosch, L&T Infotect, Musigma etc and a chunk of outgoing students are pursuing higher studies & research in high ranked Institutes and Universities nationally and globally.
On the occasion, D. Lit degree (Honorary) was conferred upon Mamang Dai, a noted poet, novelist and Padmashree awardee for her outstanding contribution to the cause of societal development by NIT-AP. The premiere institute also awarded Doctorate Degree in Engineering to Dr Santanu Maity besides113 M.Tech Post-Graduates and B.Tech Graduates which was given away by the Chief Guest.
The institute also awarded Gold Medals to highest scorers in four categories viz., Tagore Gold Medal to Sourabh Prakash Roy in Humanities subjects, Vishvesraya Gold Medal to Vishnu Priya in Engineering subjects, S N Bose Gold Medal to Bhawna Kumari in Science Subjects and J C Bose Gold Medal for best hardware project to 2 teams in group of four.