Itanagar
Itanagar:  Wanglin raises Non completion of Eklavya Model residential school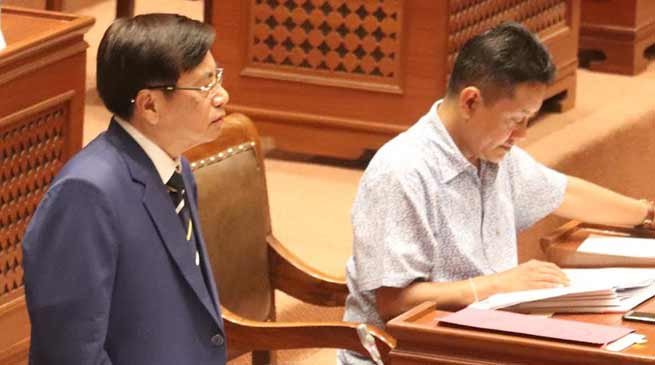 Borduria-Bogapani MLA Wanglin Lowangdong today raised the issue of Non completion of Eklavya Model residential school.
---
Itanagar
The issue of non completion of two nos of Eklavya Model residential school in state was raised on the floor of the Arunachal Pradesh Legislative assembly today by Borduria-Bogapani MLA Wanglin Lowangdong.
Raising the issue Lowangdong said that it is very surprising to know that the inspite of fund sanctioned by the Government of India the department of Social Justice Empowerment & Tribal Affairs is not doing its duty properly and the fund is not being released even the department having no engineering wing while the construction is being done by the PWD.
He said that the GOI have approved two Eklavya Model residential school (EMRS) one at Kampu while other at Khela in 2016 with an amount of Rupees 30.57 crore. He said that the department have released only 784 lakhs and the construction work have been badly affected and he wanted to inaugurate before next general election.
This practice of department have tantamount in delay of the construction of both schools. He ask for fund provision in state budget for any shortfall fund  sanctioned by GOI.
He also said that the SJETA is deducting 3 % while the constructing department PWD is also deducting 3 % is a matter of concern as the SJETA having no engineering wing and doing so.
Giving reply on the issue Minister SJETA, LM and Environment & Forest Nabam Rebia said that the approved fund of Rupees 30.57 crore by GOI. 16 crore for Khela while 14.57 for Kampu. Government of India have released fund amounting to Rupees 8 crore for Kampu and 7.888 crore for Khela and was released to Khonsa PWD divison.
There is a process for sanctioning and released of fund in finance department and takes time for sanction. Rebia due to non availability or submission of Utilisation Certificate from working department it may have taken time it have been delayed. He assured to  take up the matter for early release of fund so that the work is taken up and compelled properly.