Itanagar
Itanagar: TNAI takes out procession in support of their of demand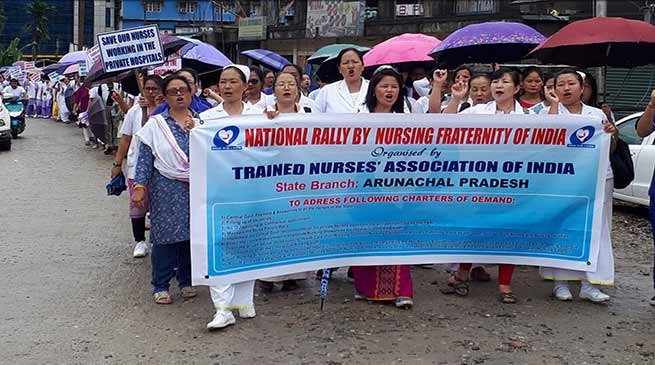 Hundreds of nurses today were in the streets shouting slogans rather than in hospitals serving patients in support of their demands.
---
Itanagar
The members of Trained Nurses Association of India (TNAI) state unit  carried out protest march in the street of the Itanagar in support of their  10 point charter of demand.
Addressing the media TNAI state Unit President K T Yasung at IG Park said that nurses have its own identity as  the most respected among the health care profession.
Nurse have been engage  in government and non government organization and serve the humanity at all time with outmost sincerity for the cause of sufferings.
She said that the main reason that nurses have to come on street for its demand with 10 point charted which are very genuine in nature for the betterment of healthcare system and welfare of the nurses so that they can work freely without any problems.
The demand which include
equal pay for equal work like of Central Government payment and allowances to all the nurses in the state.
Several vacancy need to be filled up.
No out sourcing or contractual appointment.
Maintain the Nurse patient ratio.
Implement the central government recommendation for private nurses based on the writ petition filed by the TNAI.
To provide Nursing allowance for contractual nursing staff.
Direct the private sector, those running health care unit, Nursing School, Nursing Colleges to allocate maternity leave as per Government rule for staff Nurses' and nursing faculties.
Regularization of all the contractual staff.
Government Nursing school are run by outsourced regular /contractual staff nurse disregarding the INC norms and guidelines.
Create respective post for faculties which is long overdue.
Watch Video 
In actual practice nursing profession has not been given its due recognitions by the policy makers as a distinct professions.
Such an attitude have stamped the growth of this unique professions. The nurses across the state with great hope & anxiety are eagerly looking forward to the implementation of above mentioned points.
She said that members of TNAI state branch are hopeful and confident that all the charters of demands mentioned in the memorandums will be accepted by the Govt, of Arunachal Pradesh and implemented by concerned department in the greater interest of health care system which is one of the priority of the present government.
Trained nurses from various government and non government organisation which include health department, Hospitals, health centers and students of various ANM, GNM schools and NENCHS and other take part in the procession which began from Akash deep to Tennis court and sit on dharna dharna at Tennis court for hours together.