Itanagar
Candlelight Peace Rally, Prayer to Pay Homage to Late Pul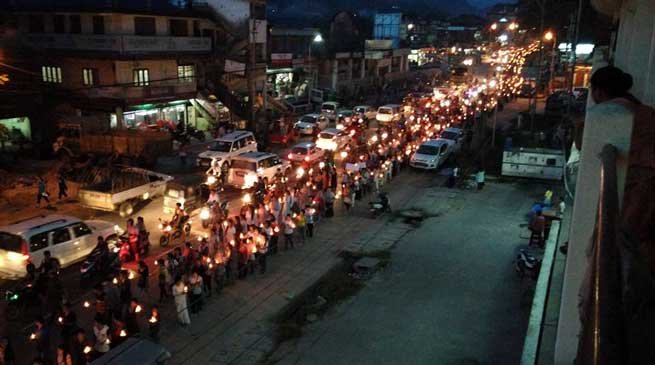 Itanagar
Where  candlelight March and  Peace Rallies have been organised in solidarity with former chief minister late Kalikho Pul at different places all over the state, in the same time a monk offered special prayer to pay homage to the departed soul of Late Kalikho Pul.
Thousands of well-wishers organised a Candle March in capital city Itanagar to express solidarity with the departed leader. They were also carrying Placard and Banner in their hands in support of Late Pul.
A candlelight peace rally to pay respect to the departed soul of Late Khalikho Pul was organsied in  Khonsa as well.
Here the rally was jointly organised by ATDSU President Hapwang Lowang and Tirap ZPC Sontung Bangsia. A two minute silent prayer was also observed by Church leader Rainlang Bosai in presence of a mass gathering comprising of people from all sections of society.
The Theravada Buddhist Society Itanagar today offered special prayer to pay homage to the departed soul of former Chief Minister of Arunachal Pradesh Late Kalikho Pul on the auspicious occasion of Sitang Petwant at Theravada Buddha Kyong, Itanagar.
The head monk of the Monastery, Venerable Ratnadeepa chanted sacred verse from the Buddhist Scriptures alongside many believers for eternal peace to the departed soul. The members expressed their deep sorrow and sympathy with the bereaved family. Candles were lit, flowers and incense stick were also offered to pay a glowing tribute to the departed soul.