Itanagar
Arunachal: Nampe and Gimba PS to go for fresh poll again on May 21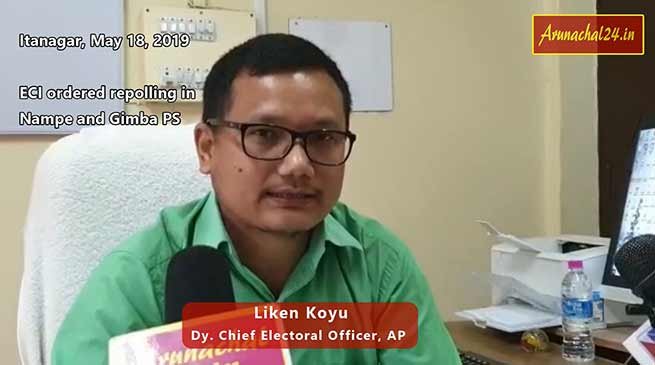 ECI has directed for fresh poll to be held for both Parliamentary Constituency as well as Assembly constituency in 28-Nampe and 6-Gimba Polling Stations .
---
Itanagar
By Manoj Singh 
With only five days to go before the counting day on May 23, the Election Commission of India (ECI) has directed for fresh poll to be held for both Parliamentary Constituency as well as Assembly constituency in 28-Nampe Polling Station of 21- Koloriang (ST) Assembly Constituency and 6-Gimba Polling Stations of Tali (ST) Assembly Constituency under Kurung Kumey and Kra Daadi districts respectively.
Timing has been fixed from 6am to 2pm.
Addressing to reporters here at Nirvachan Bhawan, Deputy Chief Electoral Officer & Deputy Secretary (Election) Liken Koyu, informed that the polling parties will move from Assembly Constituency headquarters or districts headquarters depending upon where out of these 2 places. He added that EVMs and other poll materials are ready for the poll.
He also stated that each polling party will be headed by at least one ARO who will function as the presiding officer. "Other members of the polling parties shall be taken from local as far as possible, keeping in view of the requirement in the interest of having minimum delay in organizing of re-poll in these places," said Koyu.
He further assured of providing adequate security arrangement for the polling process and for the polling team. "Already security forces have been deployed in those areas and we will send some enforcement," he said divulging that more than 50 Central Arm Police Force (CAPF) personnel have been deployed already in the areas.
Watch Video 
Along with the other states, simultaneous election in Arunachal Pradesh for PC and AC was held on 11 April last. However, due to various anomalies found in the process of voting, first re-poll was held on 20th April last in 19 Polling Stations of eight different distruict. Yet again, another re-poll was held on 27th April last in 18 polling stations under 21 Koloriang, 19 Nyapin, 18 Palin and 20 Tali Assembly constituencies.
On 14th May last, an Independent team of three senior officials deputed from Election Commission of India (ECI) headed by senior IAS officer and Chief Electoral Officer (CEO) from Mizoram Ashih Kundra visited the state and held one-on-one meeting with Kurung Kumey DEO, respective ROs, Candidates, Election Agent and representatives of Palin, Tali and Koloriang Constituencies of Kurung Kumey and Kra Daadi Districts to examine various complaints received for and against the Re-poll held on April 27 last in the respective assembly constituencies under Kurung Kumey DEO.
After scrutinizing the various complaints received, the ECI has taken the decision to hold fresh poll at the two Polling Stations at 28 Nampe in 21 Koloriang and 6 Gimba in 20 Tali assembly constituency respectively.
There were demands for fresh poll Taba PS and Nampe PS under Koloriang (ST) Assembly Constituency while candidates and representatives from Palin Constituency were seeking fresh poll at Rakso, Sangram and Raibalo. Whereas in Tali Constituency, JD(U) candidate demanded for fresh poll at Gimba citing that the polling was conducted outside Gimba village depriving many voters of their adult franchise rights. However, both the JD (U) and BJP candidates appealed the authorities to locate the polling team from Zara Polling Station who have not reported to the strong room with the EVM for many days after the poll which held on April 27.
Meanwhile District Magistrate (DM), Kurung Kumey Santosh Kumar Rai have imposed prohibitory order under Section 144 Cr. P.C today in 28 Nampe Polling station of 21 Koloriang assembly constituency.
In view of prevailing law and order problem and to ensure free and fair election district Magistrate has banned carrying arms/daos/lethal weapons/machete etc or any other lethal weapon under the jurisdiction of Kurung Kumey district with immediate effect till further order. Not more than five person or five person shall assemble with or without arms/lathi/dao or any other things which can be potentially lethal. The order added.
SP Kurung Kumey,  Rajiv Ranjan while inform this daily that elaborate security arrangement have already been made, two platoon of security force will be deployed at the polling station premises with a Dy, SP and an Inspector while one company will be deployed in the road and area domination. One company will be for road opening party and with that check naka will be there and patrolling will also there who will see that the area is under the domination of the security control.
Night patrolling is already there and security arrangements in the district headquarter is also arranged as per plan. SP added.