Itanagar
Eight New Railway Lines Sanctioned for Arunachal, Khandu Says Thanks to PM Modi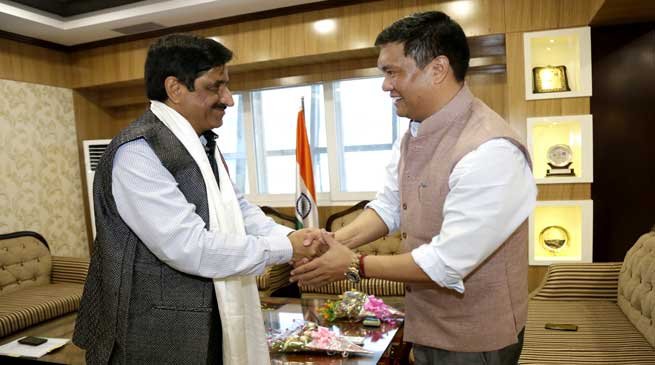 Itanagar 
Chief Minister Pema Khandu welcomed the sanctioning of eight new railway lines connecting several locations in the foothills of Arunachal by the centre including the three proposed railway lines extending to Tawang, Aalo and connecting Pasighat-Roing-Tezu.
On insistence from Chief Minister, the eight new railway lines Itakhola – Seijosa (18 km), Doomdooma-Namsai-Wakro (96 km), Dangri – Roing (60 km) Naharkatia-Deomali (20 km), Lekhapani-Nampong-New Khamlang-Deben (75 km) and Tinsukia to Pasighat via Kanubari (300 km) were sanctioned by the Railway Ministry.
Terming it as dream come true, the Chief Minister expressed that ultimately things have started to move when called on by General Manager of Northeast Frontier Railway, H. K. Jaggi along with his Railway officials at his office today.
The Chief Minister thanked the Prime Minister and the Railway Ministry for sanctioning of these projects in a meeting attended by WRD Minister Kamlung Mossang.
"I have to complement the Railway Ministry for the decision. The centre has been kind in accepting our proposals," he said and added that it was a very courageous decision by Prime Minister Narendra Modi to extend railway network till Tawang.
The three railway lines Bhalukpong-Tenga-Tawang (378 km), North Lakhimpur-Bame-Aalo-Silapathar (247.85 km) and Pasighat-Roing-Tezu-Parsuram Kund-Rupai (227 km) has completed its preliminary survey and detailed on location survey will commence soon, the visiting Railway officials informed.
It was also informed that the survey for the eight railway lines has been sanctioned.
The Chief Minister requested the Railway officials for posting of a dedicated Chief Engineer (Survey) for Arunachal to monitor the ongoing survey works to which they agreed.
Of the three railway routes, the Bhalukpong-Tenga-Tawang route is the most ambitious project at proposed construction cost of about Rs 40,000 crores, which will involve construction of 21 bridges and 145 km of tunnels. The Indian Railway proposes to construct 29 km tunnel between Dirang and Tawang. It is estimated that the entire railway route will cut down the existing road distance of 285 km to 166 km once the project completes, informed the Railway official.
The survey of Pasighat-Tezu-Parashuram Kund-Rupai is expected to complete early as the area being plain with no high steep mountains to cut through.
The Railway officials also gave presentation on the status of 26 km Murkong Selek-Pasighat rail road for which the land to be acquired has been identified and is on the process of acquisition.