Itanagar
Mein mooted use of RST to Identify Suitable Land for Different Crops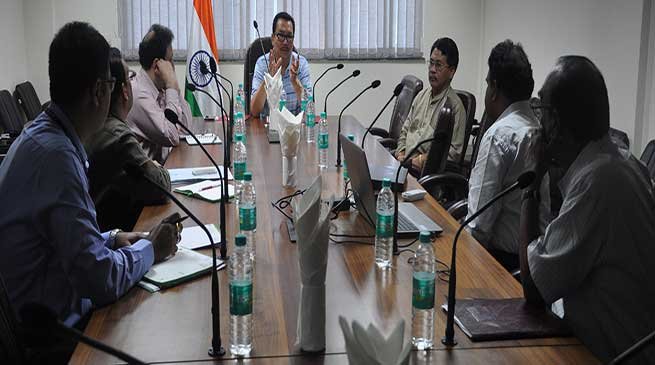 Itanagar
Deputy Chief Minister, Chowna Mein mooted for using Remote Sensing Technology to identify the suitability of land for different crops across the state. He cited this idea in a meeting with B V Raman Kumar, Chief Executive Officer of Remote Sensing Instruments (RSI), Hyderabad in the conference hall of the Deputy Chief Minister's Secretariat here this evening.
He said that as of now, the farmers of the state have been blindly cultivating the crops without any geomorphologic mapping as a result of which there have been failures in cultivation of cash crops in many parts of the state causing losses to the farmers. He said that Remote Sensing Instruments can be an effective tool for future planning in agriculture and horticulture. He requested the Minister of Agriculture, Wangki Lowang who was also present in the meeting to conduct another round of meeting with the Officers of RSI and NABARD and get the requires data from RSI by letting them to conduct land mapping for the State of Arunachal Pradesh which would be of great help for future planning.
Wangki Lowang, Minister of Agriculture enquired the CEO, RSI regarding possibilities of providing availability of ground water and mineral resources of the State. He mooted to obtain Multi-use land mapping from the RSI, Hyderabad so as to explore the ground water availabilities and mineral resources.
Raman Kumar highlighted the activities of the RSI, Hyderabad through power point presentation and asserted confident that the RSI can come out with a land suitability map for the State of Arunachal as well as for ground water availability and other natural/mineral resources mapping. He informed that RSI has already done more than 500 projects across the country including cadastral survey of Itanagar and major towns of Arunachal Pradesh and topographical survey of dam sites and power houses in the state.
Among others, Ashish Kundra, Commissioner Development & Finance, Dr Gyanendra Mani, General Manager, NABARD, Kamal Roy, District Development Manager NABARD and Dr B R M Rao, Soil Consultant, RSI attended the meeting.