Itanagar
Arunachal CM attends 46th Raising Day of Arunachal Pradesh Police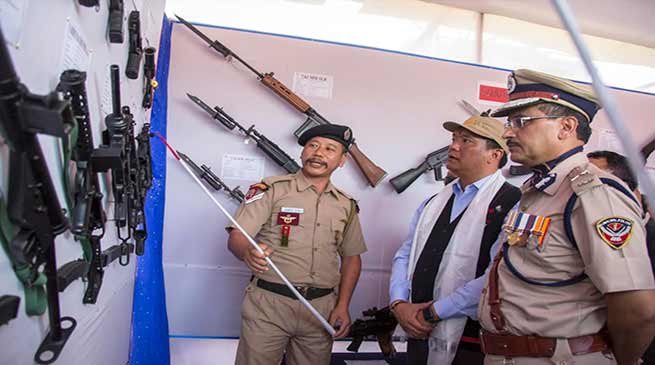 Chief Minister Pema Khandu today attended the 46th Raising Day of Arunachal Pradesh Police here at IG park .
---
Itanagar
Chief Minister Pema Khandu today attended the 46th Raising Day of Arunachal Pradesh Police here at IG park along with Home Minister Kumar Waii, Speaker TN Thongdok and other dignitaries.
Congratulating the Arunachal Pradesh Police family on the occasion, Chief Minister said "I am happy to know that Arunachal Pradesh has been adjudged as the best performing state when it comes to securing law and order as per survey by the Indian Television News Channel – India Today."
Chief Minister said he owe this credit to the credible and dedicated Arunachal Police force that has been discharging their duty with utmost dedication and also bringing innovations in serving the people in their best capacity. He also said this was the result of several police reforms brought by the state government in recent years giving highest priority to securing law and order in the state.
To fill critical manpower gaps in state police, Chief Minister said 45 head constable posts for fire dept, 32 DSP, 80 Inspector for Civil Police, 4 posts of Inspector Telecom and 3 posts of Inspector radio technicians including 700 new posts for civil police have been created. Also for time-bound recruitment process for filling up of around 1800 personnel of various ranks are under way. He said to boost the morale and self-esteem of police force, over 1500 police constables who are in service for 20 years will be given special grade promotion. Chief Minister said the state government will leave no stone unturned in modernising the police force and in giving best facilities to them so that law and order in the state is not compromised.
To secure women safety, women police station like the one in Itanagar has been extended to five more districts. Chief Minister informed that recently one women police station was inaugurated in East Kameng district.
Commenting on the recent Bomdila incident involving Indian Army and the police, Chief Minister said the incident was unfortunate. He said steps are being taken to improve the relation between the Indian Army, local administration and the state police. A monthly sitting will be held between the Army and the state police for maintaining harmonious relation and to resolve issues. He directed the state police head to ensure that all necessary steps be taken so that relations with the armed forces are maintained.
Earlier the Chief Minister inaugurated the event by unfurling the flag and releasing balloons in the air. This was followed by a ceremonial parade, band display, display by SDRF, fire department, Special Task Force and martial art performance. Chief Minister later inaugurated the exhibition stall that showcased the initiatives of APP, work of Welfare society, anti theft devices, SDRF, F&ES, STF including weapons and road safety.
"Chief Minister conveyed his best wishes to the players Inspector Nobin Jomoh and Karate coach Bulang Marik from Arunachal Pradesh Police who are representing India to compete in the 2018 Commonwealth Karate Championships to be held in Durban, South Africa on Nov 2. Chief Minister as token of encouragement contributed from his personal expenses for their trip to South Africa."
Chief Minister on the occasion gave away best performing march past display to the women police team.