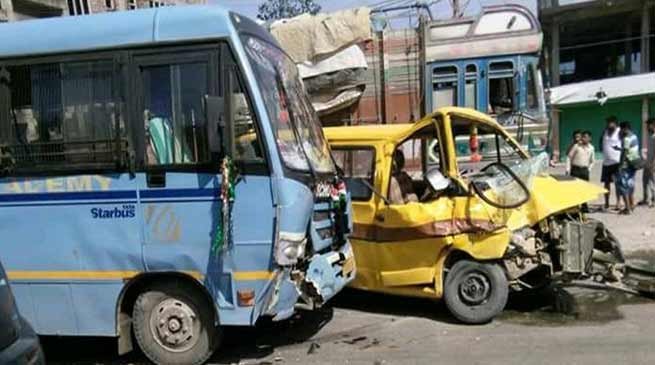 Nirjuli
6 students of VKV Nirjuli  injured when two school bus of New Galaxy Academy collided each other near Cinema Hall here today morning.
Capital SP M Harsha Vardhan informed that the two school bus of the same school (New Galaxy Academy) collided on NH-415 at around 8 am in the  morning. The bus were on its way to VKV school to drop the students of the VKV School.
 6 children's have received injuries. However mostly are minor injury who have been medicated.
The credential of both driver are being checked by Nirjuli Police, since no complaint have been received either school authority or any parents even though the documents of both vehicle AR 01 F 5538 ( Tata  Winger) and AR 01 G 1144 (Tata Star Bus) and drivers have been seized for further investigation. SP Said.
All kids are from VKV School Nirjuli being dropped in New Galaxy School bus. All the documents of both vehicles and drivers have been verified and found  correct. All kids are fine with no major injury. Since both vehicles are of same school they declined to take up any case. It is reported that one of the buses had a break failure. SP added.
The kids who got injury are Anjali Pradhan, Nabam Anu, Nabam Huto, Taba Yaya, Bishnu and  Barsha whose ages are from 6 years to 10 years.