Itanagar
Khandu inaugurates 38 Annual Day Celebrations of DNG College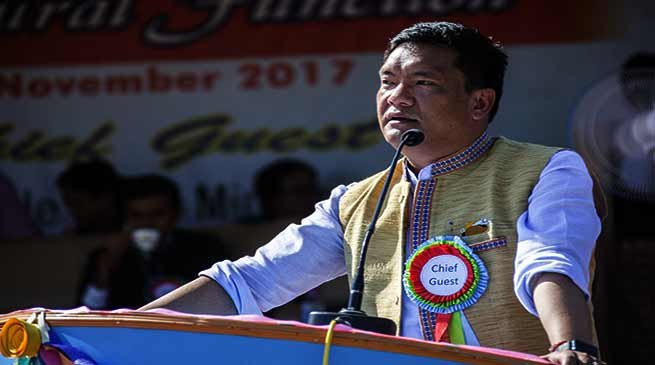 Itanagar
Chief Minister Pema Khandu today declared open the 38th Annual College Day celebration of Dera Natung Government College here at the college ground.
Earlier the Chief Minister unfurled the college flag. This was followed by march-past and band display by students divided into four houses.
Speaking on the occasion, the Chief Minister announced to extend the benefits of 7th Central Pay Commission (CPC) recommendations to the teachers of universities and colleges. He said the matter will be examined with the education department and implemented as soon as possible.
To meet the shortage of college teachers, he informed that state govt has created 130 posts for principals, assistant professors and non-teaching staffs for the vacancies in 29 govt institute of higher education. He further said if required more number of posts will be created and said the education department will be asked to make assessment of the requirements.
Khandu said state govt is giving emphasis on quality education and every effort will be made in terms of meeting manpower shortage and infrastructure.
To a memorandum submitted by the college authority, the Chief Minister assured to sanction funds for the boundary wall for the college campus and for installation of transformer to meet power requirements.
He congratulated the editorial board members of a college research journal, which was released on the occasion. He said the journal will be of benefit to the students in coming future.
Khandu said the state government had earlier brought out catchment area policy for college admission, due to which the rush at DN college has minimised. He also said every effort will be made to improve the quality of education in colleges in the districts.
In his advice to the students, the Chief Minister said the student life is the right time to choose your own destiny. He advised them to desist in being wrong company and not waste time in it. He also stressed on discipline and said that it will take you ahead in life if you chose so. Khandu further advised the students to make good use of social media else its wrong use may swept you away in a tide of disaster.
The Chief Minister congratulated the students and college faculty for the annual day celebration and suggested on larger participation involving even the parents.
Capital Complex Deputy Commissioner Prince Dhawan who graced the occasion as guest of honour said youths are welcome to be part of the development process and urged them to invest time in solving problems and not in becoming the cause of it.
A colourful cultural dances and a mega dance was performed on the occasion.