Itanagar
Khandu Govt is stable and Committed for all round development- Felix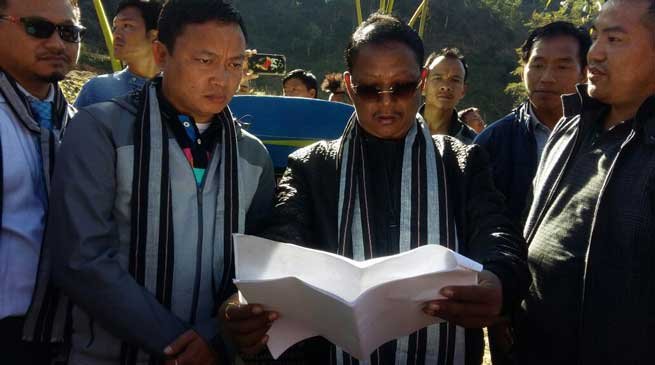 Itanagar-
A holistic development vision plan has to be evolved to ensure all round development of the state, said Government Spokesperson and Parliamentary Secretary Education Bamang Felix while addressing a mammoth gathering at Phassang circle recently. Felix was on a weeklong tour of Kurung Kumey District to gather first hand know how of the developmental needs of the district besides taking stock of the ongoing Central Sponsored Scheme and State sponsored programmes.
While admitting that due to polarization of politics in the recent past resulting the developmental activities taking back stage, Felix revealed that the present government headed by young and energetic leader Pema Khandu is stable and is strongly committed for all round development of the state. He further added that CM believes in teamwork and therefore has called for Team Arunachal Spirit to be maintained and followed. He called upon the masses to join hands with the government and be partners to development.
"True to Chief Minister Pema Khandu's commitment to usher in all round development of the state, 19th Nyapin Assembly Constituency has received almost 200 Crores package which includes PMGSY, RIDF, SIDF, SDC, NEC, NLCPR etc. which is first time in the history of the constituency", revealed Felix. He clearly indicated that no misuse of development fund by executing agencies, officers or contractors would be tolerated.
According top priority to social sectors like health and education, Felix said that teachers and doctors have prime role to play in far-flung inaccessible areas. In order to make sure that the students and patients in those areas have access to good education and good health services, Felix called for their dedicated and selfless service.
Parliamentary Secretary Sports and Youth Affairs, Nyamar Karbak, who had accompanied Felix during the tour informed that the State Government has been laying special emphasis on sports. Various sports infrastructure for numerous disciplines are being developed in the state to facilitate budding sportspersons to take up sports as profession and bring laurels to the state and the country, he further disclosed.
Felix who had started his tour from Longsa under Phassang circle laid foundation stone of PWD Circuit house at Longsa and at Langrh. At Nyapin, Felix laid the foundation stone for establishment of T T Government Degree College in the permanent site, while Nyamar inaugurated a Badminton indoor hall. Felix also laid the foundation stone of primary Health Centre at Hiya.
Parliamentary secretary Home Pani Taram who joined Felix on day five, laid the foundation stone for establishment of RWD Division office at Laying.
Felix distributed barbed wires to farmers and blanket to all GBs and old age group in Nyapin, Nyobia, Sangram and phassang administrative areas throughout the tour.