Itanagar
Dr. Vardhan participated in mass social service in state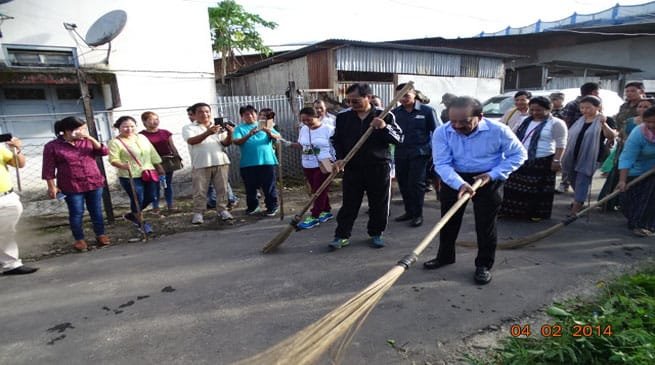 Itanagar
Union Minister for Science & technology, Earth Science etc Dr. Harsh Vardhan today took part in mass social service on theme " Naya Bharat manthan, sankalp se sidhi" in RK Mission residential complex today morning.
After social service Dr. Vardhan while talking to mediapersons at the sideline of the programme said that since October 2 2014 the PM launched a determination in the form of Swach Bharat mission to clean our resident, hospital, hotel, marker, office, area, city, state and nation and was wanted to make a movement and it will naturally clean, if everywhere is clean and clean environment we would be free from many diseases.
Congratulating the party workers, lawmakers Dr. Vardhan said that the the swachata abhyan should be kept in mind and a mindset is required so that our nation become neat and clean and we stay fit and fine.
He appealed to the people of Arunachal to join hands together in making the success of the swatch bharat and the mission is completed if a determination is taken by all Dr. Vardhan said.
He said that he have a discussion with the Chief Secretary and senior officer of the government on science & technology and have requested then to follow up the scheme approved by the central government for development of Science & technology in state.
While taking on OPC cable laying Dr. Vardhan said that  during 2014 there was only 356 KM but not it have reached to more than 2 lalks KM line have been laid and till 2018 he said that all the panchayat will be connected by OFC.
He said that 50 schools of state have been approved for providing and improving of scientific and technology in science laboratory and fund have been released and after submission of utilisation certificate the remaining fund will be released. He said two major projects have been approved form Kimin and formalities started and activities also started Dr. Vardhan added.
Minister Power Tamo Taga, law maker Techi Kaso, Tapuk Taku, Mama Natung,Laisam Simai, IMC Chief Councillor Kipa Kaku,City Unit President Tarh Soping,  BJP senior leaders from state and district unit, IMC Councillors, Morcha heads and karikartas, from capital unit and Papum Pare district unit took part in the swachh bharat abhyan