Itanagar
Arunachal: Mein inaugurates Smart Auditorium in NIT Yupia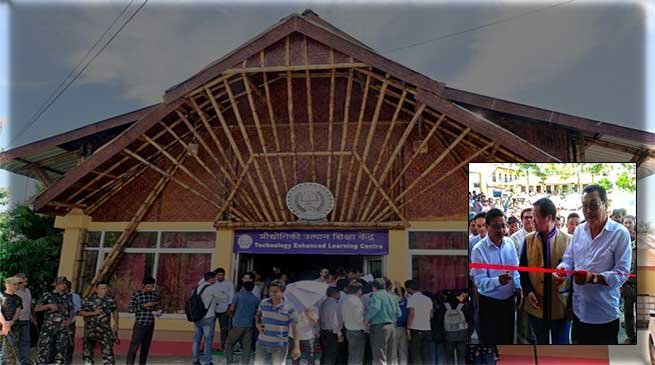 Deputy Chief Minister Chowna Mein inaugurated smart auditorium in the form of a Technology Enhanced Learning Centre funded under North East Council at NIT, Yupia here today.
---
Itanagar
"I do believe that NIT Yupia which is known as the 'Centre of Excellence' and an 'Institute of National Importance' will come up with new innovative technologies in days to come and produce best technological professionals for the nation," said the Deputy Chief Minister Chowna Mein during the inauguration of smart auditorium in the form of a Technology Enhanced Learning Centre funded under North East Council at NIT, Yupia here today.
The Technology Enhanced Learning Centre will cater to the needs of the students as well as the faculty members of the institute in enhancing their learning and teaching process. As the centre is said to be fully equipped with 'state of the art' technology for smart interactive black board, it will also be used for conducting conferences, workshops and Faculty Development Programme.
While appreciating the NIT Yupia and the Cane & Bamboo Technology Centre for coming up with such a beautifully designed smart bamboo auditorium in the state, Mein said that it is for such innovative technology and architectural designs we look-up to such technical institute for which we can boast off.
I am glad to know that National Institute of Technology, Yupia which is one of the 31 NITs in the country is striving hard and thriving since its inception over the last 10 years to produce best technological professionals through its Undergraduate, Post graduate and PhD programs, said Mein.
Mein exuded confidence that the institute will produce world-class graduates who will not only be the job seekers but will become job providers through their entrepreneurship skills and technical know-how after passing out from this institute.
He called upon the student to respect teachers and elders, work hard and maintain utmost discipline while sincerely pursuing their dreams. There is no short cut to success and hard work is the only mantra to climb up and achieve new high in the journey of life.
Today is the age of technology and transparency. The world today is looking for the new technologies and innovative ideas to find solutions for new challenges; I believe you will harbor and excel in both of these, said Mein.
While recalling the contribution of all the former Chief Ministers, Mein said that state has witnessed many transitional phases and every one of them has contributed for the upbringing and development of state. It is now upon us to carry forward the legacy of development for which every individual must support and contribute for the growth of the state.
He reiterated that the state government in the budget have accorded top priority and equally focused on improving health, education, tourism, agri and horti sector.
He assured  that State Govt will extend every possible support for early completion and shifting of the Institute in its permanent site at Jote.
Mein announced that the road leading to Jote have been  taken up under the Chief Minister Comprehensive State Road Plan and government contemplates to declare the road as State Highway soon.
MLA Doimukh Tana Hali Tara, Director NIT Prof. P.Mahanta, Dean Academia Rajen Pudur also spoke on the occasion.
DCM Mein also gave away the certificate to faculty members for recently conducted Faculty Development Program and MLA Tara gave away the certificate to students for participating in Swachhta Pakhwada events.
HELP US TO DELIVER THE INDEPENDENT JOURNALISM