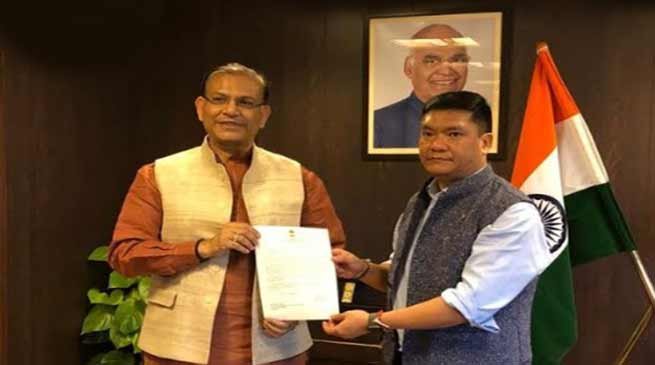 New Delhi
Arunachal Pradesh Chief Minister Pema Khandu today called on union minister of state for civil aviation jayant Sinha urging for early sanction of Green Field Airport at Hollongi.
In a meeting with Union Minister of State for Civil Aviation Jayant Sinha here this afternoon, Khandu informed that the State Government has finally resolved all the outstanding issues relating to establishment of an airport at Hollongi. The detailed proposal is under submission with the Ministry of Civil Aviation.
It is encouraging to learn that the preparation of DPR for the project by the Airport Authority of India  is likely to be completed by 20th July 2018 and forwarded to the Ministry of Civil Aviation by 30th of July 2018. The Steering Committee is likely to approve the project proposal by August 2018 along with all the mandatory clearances.
Considering the fact that Arunachal Pradesh is one of the very few States with no airport in its Capital city and the people deprived of air connectivity, Khandu requested the Union Minister to expedite all clearances of the project.
MOs assured that the airport at Hollongi would be taken up on topmost priority by the ministry.