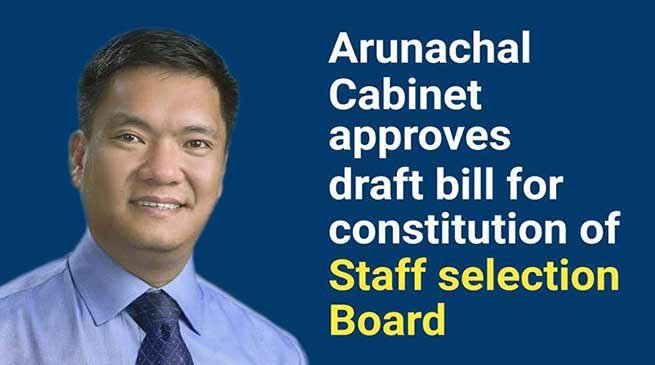 Itanagar
The first deck for establishment of a Staff Selection Board for recruitment of all Group C posts has been cleared today with the state Cabinet's nod to the draft bill. The Arunachal Pradesh Staff Selection Board (APSSB) Draft Bill will now be placed in the Legislative Assembly probably in the next session.
The Cabinet justified that since recruitment to Group C posts in the government requires conducting of examinations involving standardized testing method without involving interviews, it is required to create a specialized body for the purpose so that recruitment can be carried out at regular intervals. Besides, the Arunachal Pradesh Public Service Commission (APPSC), which presently conducts the recruitment of Group C posts, will be spared the burden and can solely concentrate on recruitment of senior official posts.
Chief Minister Pema Khandu has been rigorously working to streamline the recruitment process of the state government so that only eligible candidates are recruited through a fair and transparent process. Besides strengthening the APPSC, establishment of a Staff Selection Board has been on his agenda from day one.
Once passed by the Assembly the APSSB would become an autonomous body with a Chairman, Members, Controller of Examination, Secretary and other subordinate officials.
The Cabinet today approved the guidelines for implementation of the Integrated Financial Management System (IFMS), which is a standardized financial monitoring and reporting system that consolidates all financial information needs of the government into one information database. This would enable the government to take macro decisions that affects the state as a whole. Further, it would facilitate disclosure of public finance information to citizens to improve budget transparency. In fact, the state government in its budget presentation of 2018-19 had announced to implement and launch the 1st phase of IFMS in the state.
In order to create a common database of widows and welfare of widows, the Cabinet approved to amend the Arunachal Pradesh Registration of Births and Deaths Rule 2001. The amendment calls for compulsory incorporation of the name, age and contact details of the widows on death report, death certificate and death register of the husband.
The Cabinet also viewed the present stamp duty rate for execution of mortgage deed as exorbitant that deters prospective entrepreneurs from availing loans from banks. It therefore has approved reduction of stamp duty for mortgage deed from Rs 50 to Rs 10 for amount or value of the consideration does not exceed Rs 1000. For those exceeding Rs 1000 the stamp duty would be now 1% of the amount or value of consideration.
Meanwhile, the Cabinet has approved creation of 97 numbers of Group A, B and C posts under the department of Health & Family Welfare for various nursing schools and colleges under the directorate of Medical Education, Training and Research.