Arunachal
Pul assured that Municipal Councils to Get Facelift very soon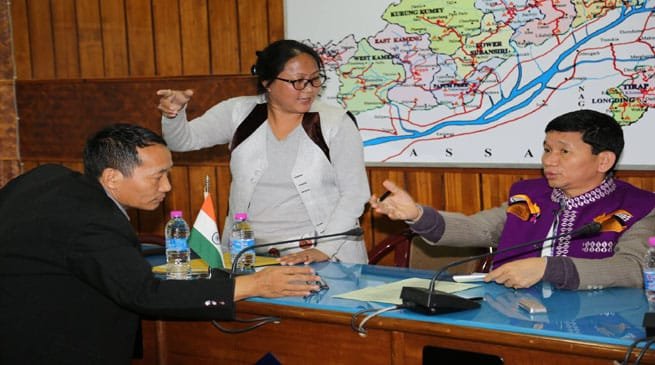 Itanagar
Municipal Council in Arunachal pradesh is all set to get a facelift very soon, this was revealed by Chief minister Kalikho Pul before the councillors.
About 30 councillors of Itanagar, Naharlagun and Banderdewa met chief minister Kalikho pul recently. During the 6 hour long meeting with the councillors , measures for sanitation, cleanliness, beautification and modification of Itanagar urban city was broadly discussed and agreed upon for urgent implementation. Mr Pul announced that all grants under TFC and FFC meant for urban local bodies would be released in totality.
CM assured to fill up 60 additional manpower to meet the staff shortage of IMC. On being informed that around 30 sanitary assistants out of 173 are being used as office attendants, Pul categorically call the IMC to immediately rationalise staff detailing by using them for the purpose they have been appointed for.
Keeping cleanliness and sanitation of Arunachal, more particularly the capital region on state government's high agenda, CM called for a concerted effort from all sundry irrespective of party affiliations, caste, creed, community and religion to make Itanagar region a worthy place to live in and a perfect destination for the visitors.
He also announced to provide Rs. 2 crores for garbage reduction source which would be used as revolving fund. The municipal council would procure good quality polythene and distribute it to every household of the capital region in nominal prices. Every household will be specifically briefed to use the polythene to gather the waste and throw in the designate garbage dustbins that would be constructed in every ward and sectors. CM asked the councillors to identify suitable places in every sector for construction of RCC dustbins and also directed the concern engineers to prepare estimates for the same.
Chief Minister while underscoring the need for atleast 60 public toilets in and around the capital region, instructed IMC to identify locations and prepare detail estimates for construction of public sanitary toilets in key areas.
Responding to the vehicle crisis faced by the IMC to lift the garbage, CM announced to provide ten mini tipper trucks with hydraulic unloading system immediately while one JCB multi-tasking earth mover would also be procured for the Municipal council.
Pul gave a positive nod for dumping ground one each at Karsingsa for covering the areas of Naharlagun-Nirjuli-Banderdewa and Chimpu for Itanagar. He assured to provide funds for development of dumping grounds with working out possibilities for solid waste management.
Underscoring the need of burial cum cremation ground for Naharlagun and Itanagar denizens, CM assured to construct approach road to the existing burial cum cremation ground at Nirjuli besides providing boundary wall, lighting system, waiting shed, water supply etc. for the crematorium. He also promised to work out possibilities for installation of electric crematorium facility at the designate place for convenience of general people. Similar burial cum cremation ground at Chimpu, Itanagar would also be developed with all facilities, CM assured. He asked IMC to prepare detail estimate on an urgent basis.
With ever burgeoning traffic in the capital region which has an average of 45 new vehicles being registered on daily basis, CM emphasised for urgent need of parking place to ease out traffic congestion.
CM revealed that Rs. 5 Crore has been released for carpeting and widening of Itanagar –Jullang –Naharlagun road as alternate arrangement for easing out traffic. He said that the road stretch from Governor's helipad through Door Darshan colony connecting the SP's office Itanagar would be made functional by constructing retaining wall at eroded portion near ESS Sector, Itanagar. By making one way provision, the capital traffic could be eased out to a great extent, he justified.