Itanagar
Khandu launches Hornbill Blue,  e-ticketing Mbl App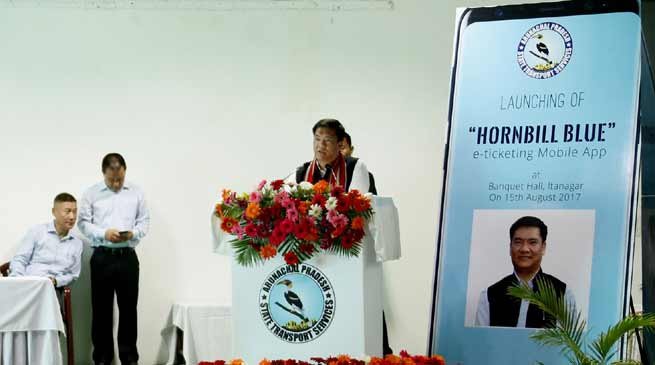 Itanagar
Chief Minister Pema Khandu today launched the 'Hornbill Blue', an e-ticketing mobile app of Arunachal Pradesh State Transport Services (APSTS) here in presence of Chief Secretary Shakuntala Gamlin and Transport Secretary, GS Meena.
Congratulating the transport department for launching the e-app, the Chief Minister exhorted the officials of other department also to take initiative in digital India mission by switching over to IT mode. He urged them to make use of modern technology as the era today is of digital age.
He said the state government has taken several initiative to make governance transparent and accountable through use of IT. He informed that government has initiated paperless office with the launch e-cabinet and e-office.
He said in transport sector, the state government has made great achievement by the launch of state's lone ISBT, and assured to initiate similar transformation for state's development.
APSTS General Manager, Abu Tayeng gave a brief background of the 'Hornbill Blue' app. He said the launch of app will benefit the customer as it is user friendly and uses mobile platform.