Arunachal
Khandu Sanction 5 Cr for development of East Siang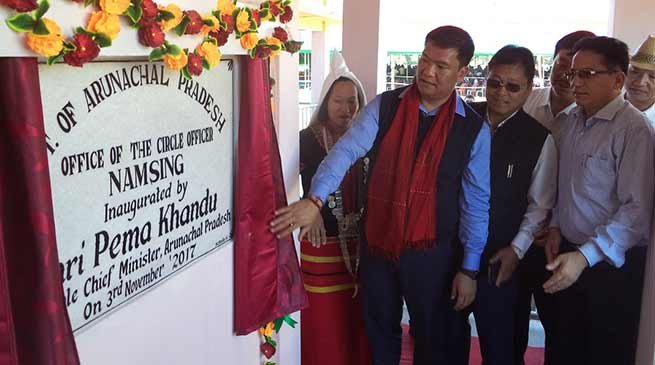 Pasighat
Addressing a Public meeting at Namsing Village on Friday  Chief Minister Pema Khandu gave spot sanction of five crores for the development activities in East Siang district.
Not only that, responding to  memorandums submitted by Mongu Bango, WASE, Namsing village and New District Demand Action Committee, Khandu assured to review all the issues and to take appropriate actions.
Before that the Chief Minister inaugurated the much-awaited Circle Office building at Namsing, under Mebo Subdivision, East Siang district in presence of State BJP President Tapir Gao, Advisor to CM and local MLA Lombo Tayeng, DC Tamiyo Tatak, SP Pranav Tayal, former MLAs Roding Pertin and Ralom Borang.
The CM also laid foundation stone of Don Bosco School, Mebo and released a book authored by Father Fransis and participated in a plantation program.
Later, in a public meeting addressing the people of Namsing, Mr Khandu appreciated the villagers for maintaining peace and harmony in the society and advised to preserve age-old tradition and culture.
He further assured to send a special team of experts to inspect Tarotamak riverside to take immediate and suitable flood control measures. He categorically mentioned that 1983 district creation guidelines is old and it will be brought in the assembly for discussion for amendment which will help in district creations in future.
BJP will take the development journey of the State to new heights and Nation's interest first, party and then self-interest last should be the commitment of the party members, stated the CM.
The Chief Minister urged the government officials and leaders to conduct awareness campaign on central and state flagship programme so that people are largely benefited.
Many beneficial schemes have been launched by the central and state governments for all-round development and to minimize the unemployment.
About five thousand jobs has been created and promoted entrepreneurship in the state within one year, asserted the CM. He thanked the elders, ex Ministers, legislators of the Mebo for their vision in infusing work culture here. He also thanked the government officials for maintaining the work culture in the district.
Earlier, Advisor to CM and local MLA Lombo Tayeng conveyed his gratitude to the visiting CM for his love and care he shown to the people of Namsing in particular and Mebo subdivision as a whole.
He informed that in addition to SIDF five crores was allocated by the CM which has been judiciously utilized for restoration and maintenance of road communication or the area.
BJP State President Tapir Gao while addressing the people said the present government under the dynamic leadership of Pema Khandu has achieved tremendous development. It is corruption-free and people friendly government.