Arunachal
State Govt is in process of formulating Investor Friendly Industrial Policy- Khandu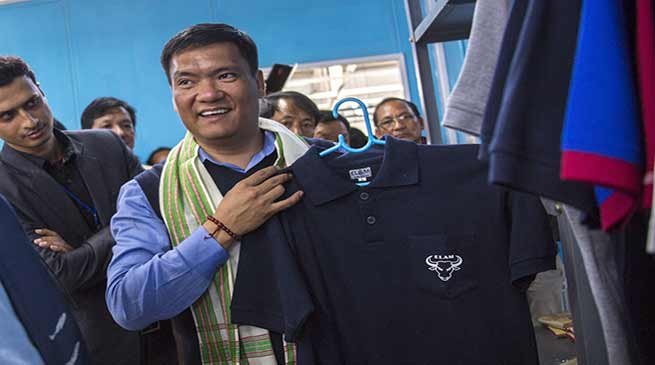 The state government is committed to promote and support the growth of the industries in the state- Pema Khandu, Chief Minister, Arunachal Pradesh  
Pasighat
Chief Minister Pema Khandu on Friday assured that the state government is committed to promote and support the growth of the industries in the state and in this direction the state government is in the process of formulating Investor Friendly Industrial Policy, as the state has immense potential for various industries including textile promotion.
Inaugurating the Apparel and Garment unit of Elam Industries, Arunachal's first and the largest mechanised textile factory here at Industrial Estate, the Chief Minister termed it as 'Pride of Arunachal' and a pioneering step in the textile industry sector considering its scale. The textile industry will create immense employment opportunities for the artisans and youths of the state, he said.
Responding to a memorandum submitted by proprietor of Elam industries, Mohanto Pangging a former fighter pilot in Indian Air Force (IAF), the Chief Minister said that NITI Aayog will be soon revisiting the North East Industrial Policy. He assured that the bottlenecks faced by the industry in terms of irregular and insufficient power supply will be addressed. He said the state government is always ready to support the local industries as Arunachal has immense scope for industrialisation.
For sustenance of local industries, the Chief Minister assured to accord public procurement preferences for goods produced in the local factories. He promised to have discussion with the education department for procurement of school uniform produced by the Elam industries and appealed all the owners of the private schools to procure locally produced school uniform. As gesture of support, the Chief Minister assured to purchase school uniforms from Elam Industries for Tawang Public School, a school run by him in Tawang.
The Elam Apparel and Garment Industry is housed in the Apparel and Garment Making Centre/ Manufacturing Centre created under North East Region Textiles Promotion Scheme (NERTPS) here at 2-Mile which is manufacturing all kinds of readymade garments including school uniforms and also committed to promote the local textiles/fabrics and ecofriendly garments and fabrics.
The event witnessed a fashion show where the school and college children walked the ramp wearing various designer outfits designed by a local fashion designer showcasing the locally manufactured garments produced from the Elam industries.
Earlier the Chief Minister also visited the Elam power loom and handloom industry including various sections of the apparel and garment industry. He was accompanied by State BJP President Tapir Gao, Lok Sabha MP Ninong Ering, Advisor to CM Lombo Tayeng, Nari MLA Kento Rina and other officials.