Itanagar
Itanagar- Digidhan Mela Launched in Arunachal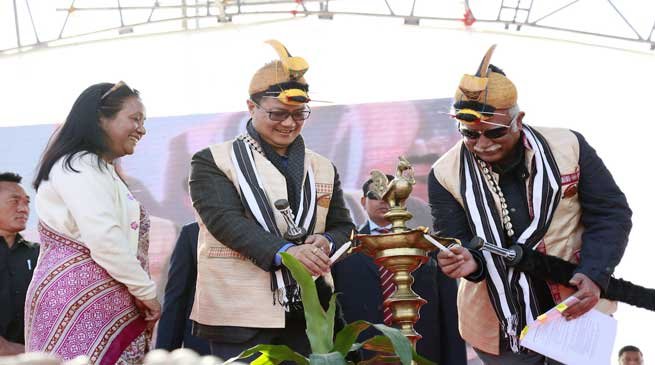 Itanagar
"Digidhan Mela is a national movement of epic proportion," said CM Pema Khandu while referring to the Digidhan Abhiyan launched by the Prime Minister today in all over India for promoting digital transaction.
In his message conveyed through Dr Mohesh Chai, Minister for Animal Husbandry & Veterinary who read the message in the mammoth gathering at IG Park today, the CM expressed his deepest regret of not being personally present in this important function of Digidhan Mela.
"I had cancelled all my engagements to be present for the daylong Digidhan Mela," he said.
Adding further, "Unfortunately, due to an unavoidable circumstance, I had to leave for my hometown. The Abhiyan launched by our Hon'ble Prime Minister, for promoting Digital transactions through the Digi Dhan Mela is a National Movement of epic proportion. The people and Government of Arunachal Pradesh will leave no stone unturned to be the front-runner in this National Movement.
Arunachal Pradesh is largely a Govt driven economy and therefore when all the institutional and govt transactions are made digital, large portion of the state's economy automatically becomes cashless.
It will be the earnest and sincerest endeavour of my govt towards this goal.
I wish the Mela a grand success and promise to conduct more Digidhan Melas across the State, the message read further.
It is worth mentioning that the youngest CM Pema Khandu has been from the day one promoting digital governance in the state. He initiated and signed the first e-file on 16th August 2016, while several digital programmes launched on the brief span of time. Days are not far when the state will fully adopt the cashless transaction to fight corruption, black money, terror funding and to ensure transparent Governance.