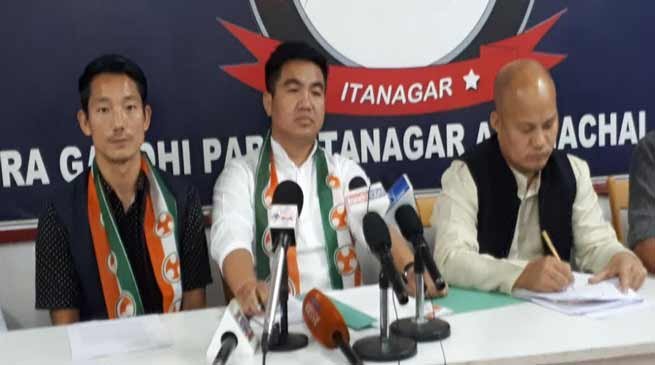 Itanagar
Arunachal Pradesh Youth congress Today submitted Memorandum to the  Governor of Arunachal Pradesh to intervene and Direct state  Govt. to issue election Notification for Panchayat polls in the state as The Tenure is going to complete this month and State election commission has already submitted for approval to conduct Panchayi Raj Election in the State .
Addressing a press conference at the Arunachal Press Club here today, APYC president Geli Ete informed that as per the notification of the State Election Commission,  the election notification should be issued on April 13 while last date of filing nomination is on April 20.
Adding that the not issuing notification to conduct panchayat body elections despite knowing the fact that the panchayat body's five year term is scheduled to expire on May, Ete said that it is total violation of the Article 243 B and 243 E of the 73rd amendment Act of 1992.
If at all any addition or deletion was necessary they might have done it much before as per desire but is knowingly delaying the whole process, he added.
He added that keeping panchayat body in a dormant position will incur loss of Rs 592.75 crore from the head of 14th FCC.
Nari Koyu assembly constituency Koyu Anchal Samity Block, ASM Kadu Village Zirgi Kadu informed that he has tendered his resignation from the post in protest against the state government for adopting delay tactic in notifying panchyat election on scheduled time.