Arunachal
APATCYO threatened to launch democratic movement in favour of their demand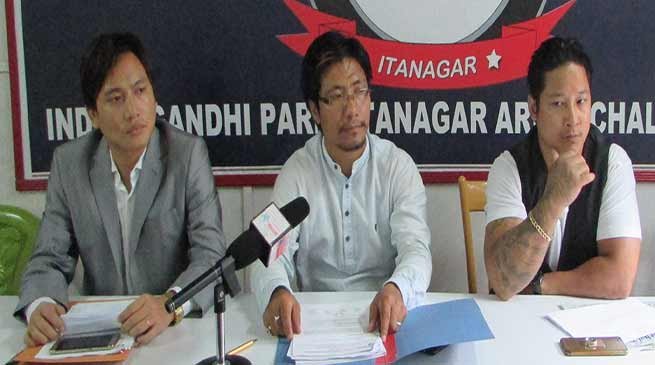 Itanagar
The  Arunachal Pradesh Abo-Tani Clan Youth Organisation (APATCYO) threatened to launch a democratic movement if their three points will not full fill by the state government.
Highlighting their three points demands that is Constitution of Abo Tani Autonomous Council, conducting proper survey of the Tibetan refugees and compensate the aspirants of JE exams of WRD, whose exam was cancelled and diverted to APPSC,  APATCYO also  Served  15 days ultimatum to the state Government.
Addressing a press conference at Arunachal Press club, President APATCYO, Kame Kipa informed that earlier on August 3rd they met the Chief Secretary regarding these issues and submitted a memorandum, but till date no action has been initiated therefore they are compelled to go for such drastic step in order to meet their demands.
The Organization claimed that the Abo Tani clan, the most populated tribes of the state is remaining deprived in terms of socio cultural and infrastructure development due to step-motherly treatment from the State Government.
He alleged that many state Government and Central Government funds that are meant for the Abo Tani Clan areas are diverted to other non Abo Tani Clan areas of the state, which is such an injustice for the Abo Tani Clans.
On Tibetan refugees it said that due to non-availability of check posts in the Kalaktang Bypass in west kameng district many Tibetan refugees are infiltrating through it easily. It feared that Chinese spies too could be among them.
Further alleging for illegally appointing 3 gazetted posts of Assistant Art and Culture officer in the directorate of Art and Culture without holding any free and fair interview, he questioned why the recruitment of non-gazette posts like Junior Engineer is diverged to APPSC whereas APPSC is responsible for conducting exams only for gazetted posts.
They also extended support the AAPSU movement against Chakma-Hajong refugee issue and said they should be evicted from the state if citizenship if granted to refugees. If the MON and Patkai autonomous council issue is kept lifted then we also shall leave up the issue of AboTani autonomous council issue stating creating so many council will divide our own brothers and sister in the name of area and would also hamper the development.
Further, APATCYO warn that if government failed to fulfil their demand on given time they will go for democratic movement in form of bandh call which would affect all the Abo-Tani clan dominated area of state.