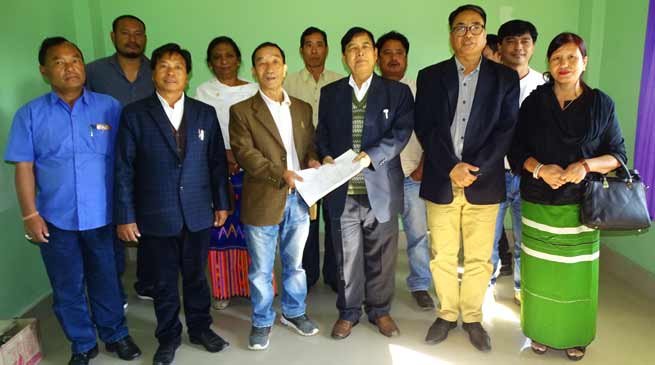 Itanagar
Peoples Party of Arunachal (PPA) on Sunday joined the race  in Likabali  bye-election in state to be held later this month informed PPA President Kahfa Bengia.
The party was unable to put candidate at in 12-Pakke Kesang as our candidate who earlier was went to Congress. In case of 28-Likabali wherein three potential candidate were in line for party ticket from BJP and find that the ticket have been issued to a newly joined aspirants so it was our prerogative to put candidate in Likabali and we have chosen one of the senior leader Gumke Riba of Likabali area as PPA candidate and assured the full support the party, said Bengia.
Bengia said that Riba have today joined the PPA along with his supporters and he will filling his nomination tomorrow as a PPA candidate and work for his people.
Gumke Riba while said that " I joined BJP in 2013 and fight the last assembly election 2014 on BJP ticket. I have dedicated my sincerely for the BJP an given my full time for expansion in grassroots area of my assembly constituency but the leaders of the state did not honour my sincerity, devotion and dedication in the Party and the ticket have been issued to one who have joined BJP a month back.  This have hurt me allot and compelled me to take the support of other Party and contesting on PPA from 28-Likabali assembly constituency and will file my nomination tomorrow"
Meanwhile the  BJP have announced the name of candidate for both assembly constituency. Biyuram Bage have been fitted with the Congress heavy weight and former Deputy Chief Minister Kameng Dolo in Pakke Kesang while Kardo Nyicyor will have to face Gumke Riba of PPA, Modam Dini of Congress in Lekabali.
Sources said that there are likely of few Independent candidate who could file nomination on Monday the last day of filing nomination.