Itanagar
APSSC Chairman Tajom Taloh Called on CM Pema Khandu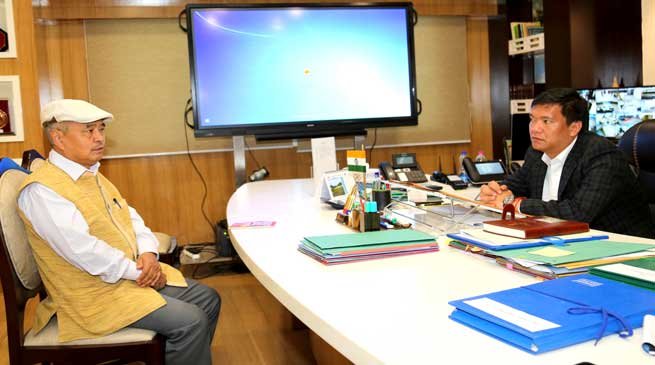 Itanagar
Arunachal Pradesh Public Service Commission's newly appointed Chairman Tajom Taloh called on Chief Minister Pema Khandu today after taking over the charge as chairman of the prestigious commission.
During the meeting, Khandu exhorted APPSC to accord top priority towards merit and transparency. "No room should be given for any malpractices" CM strongly urged. He requested Taloh to devise a specific calendar of activities/examinations so that the candidates could plan and prepare themselves accordingly. Khandu also suggested to shorten the period of the selection process which at present is very lengthy and time taking.
Taloh who had assumed the office a month ago, informed the CM that the commission's inbuilt system is very effective and transparent. He however pointed that due to shortage of manpower and required infrastructure, there have been instances of delay in executing the commission's activities in smooth and time bound manner.
While agreeing with Taloh over the shortcomings, CM assured to augment the capacity in the APPSC by providing additional human resource as well as by upgrading infrastructure through construction of additional rooms.
The matter of changing the pattern of APPSC examination to UPSC pattern for benefitting the candidates was also discussed in the meeting. The Chairman was requested to load all the past question papers and syllabus of preliminary and mains examination on the website of the commission so that the aspiring candidates could be benefitted.
In order to streamline the recruitment procedures and bringing it under one ambit, it was decided that the delimitation of rules under APPSC would be amended so that all the subordinate staffs appointments (grade B and below) would also be done through the APPSC.