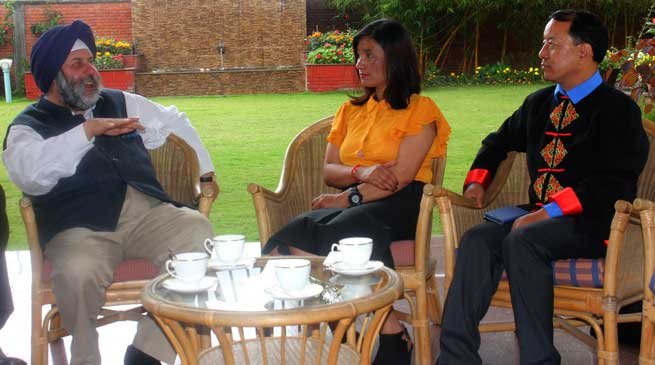 Kathmandu
The Embassy of India in Nepal  organised a Hi-Tea in honour of Anshu Jamnsenpa where the  Indian ambassador to Nepal Manjeev Singh Puri  met and interacted with mountaineer Anshu Jamsenpa for her world record summit at the Mount Everest, on Tuesday in Kathmandu.
The deputy chief of mission Vinay Kumar, two first secretaries and officials of Embassy were present. Anshu was accompanied by her husband and president of All Arunachal Pradesh Mountaineering and Adventure Sports Association Tsering Wangey and closed aide turned PR Manager Nanda Kirati Dewan.
Manjeev Singh Puri congratulated Anshu for her record beating feat. Puri said the mountaineering is a sports which brings the two countries closer every year and vowed to help from his end to the Indian mountaineers. He went on to add, 'Achievements of young Indian mountaineer in the global media and its impact on younger generation and masses where together from so many countries of world assemble for the summit, makes Anshu goodwill ambassadors of peace and mountaineering sports of India in the expedition hours and aftermath.'
In a press statement issued from Kathmandu, Nanda Kirati Dewan, Anshu's official spokesperson said, 'Anshu set a world record when she scaled the world's highest peak within a span of five days on May 16 and May 21. Earlier, she climbed the Everest twice in 2011 and another time in 2013. Altogether Anshu has climbed Mt Everest fifth times and it's a national record of highest summit by an Indian woman. She is also the first woman in the world to have scaled double ascent mount everest twice. This expedition she created two new world record and one national record.'
Anshu Jamsenpa, climbed Everest by its Southeast Ridge route on May 16. She repeated the feat on May 21, beating a record set by a Nepali woman, Chhurim Sherpa, who made the dual climb in seven days in 2011 .Both ascents are expected to be certified by the Nepali government tommorrow , a tourism department official confirmed to Tsering Wange.
Anshu, who like many people in her state is known by her first name, also climbed the 8,850  metre (29,035 feet) summit twice in 10 days in 2011. She climbed it again in 2013. A motivational speaker and trainer in mountaineering, Anshu said she felt an emotional attachment to Everest. While interacting with Amb Puri Anshu said,' "When I go high up I rediscover myself and can realise the strength of my mind', and thanked the Indian Mission in Nepal for the support extended to her since 2011 and for the honours showered after the successful summit.