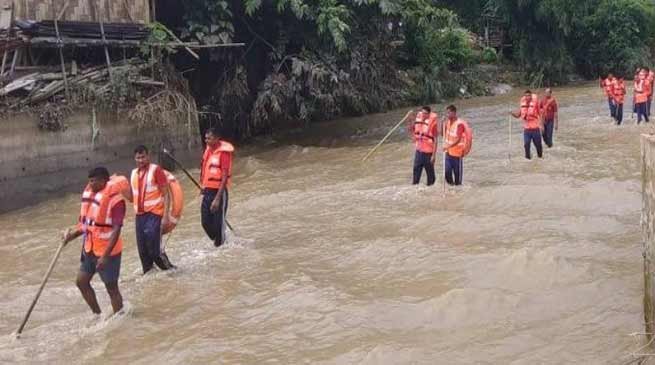 With recovery of two more bodies, the death toll rose to 5 in the flash flood and landslide incident of Itanagar.
---
Itanagar
With the recovery of  two more bodies today the death toll rose to 5  in the Friday's  flash flood and landslide incident.
Capital Deputy Commissioner Prince Dhawan informed the Police and  SDRF team still searching the missing persons  and  so far only three bodies  were recovered in the Itanagar and Naharlaugn area.
On Friday's flash flood,  three member of a family was washed away from Modirijo area of which the youngest members of the family a small child of aged around 3 years Late Kojum Beyong was retrieved from Papu river at around 6 AM near Oju Mission School.
 A lady Yadi Regio from Jamijate area who was rescued by local people and police from same stream was admitted at Hospital with multiple fracture later succumbed to injury while the third body of  Late  Mohan Bahadur Chetry was recovered by the team of NDRF 12 Battalion from Dikrong river near old NIT area of Nirjuli.
Two team constituted on Friday under the close supervision of Commandant Umesh kumar Thapliyal which have been led by Assistant commandant Sanjay Prasad Sharma began the search operation today early morning  from both location.
The 1st team consist of 19 members while 2nd team consist of 34 members with  all required technical and support and materials engaged in the job to locate for the three missing body along the stream and later in river Dikrong toward downstream.
The team at around 11 AM able to recover body of a male from 300 metres towards Harmuty Tea Garden who was identified as  Rigio  Tagung, aged around 60 years,  the body was handed over to the relatives for conducting last rite.
The team then later moves for search rest two members of which one body of a female, aged around 30-35 years was retrieved at around 8 PM from Nepali Village, PIthaguri No-4 around 8-10 Kilometre from Banderdewa in Bihpuria Police Station of North Lakhimpur district of Assam. The body have been handed over to the Police and family members have been called for. The body has been identified as Lt.Mary Beyong aged 32 years w/o tafang Beyong of modirijo
NDRF Deputy Commandant P N Singh inform that the search operation have been halted for today and again the team shall start operation tomorrow early  morning to search for the last body.