Arunachal
Tawang- Dalai Lama laid the foundation stone for a Government Degree College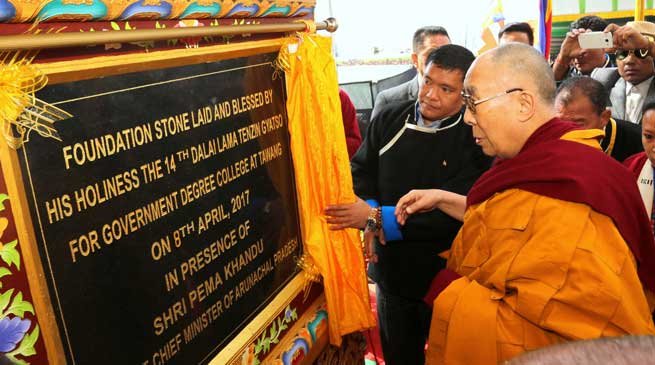 Dalai Lama  taught the thirty-seven practices of Boddhisattavas and the middle volume of the stages of meditation
Tawang
His Holiness, the 14th Dalai Lama Tenzing Gyatso Gyatso this morning taught the thirty-seven practices of Boddhisattavas and the middle volume of the stages of meditation to a crowd of around thirty thousand devotees, including thousands from Bhutan, gathered at the Yid GaChosin monastery ground that reverberated with Buddhists hymns since early morning.
Welcoming the Dalai Lama to his home district, Chief Minister Pema Khandu asserted that as a spiritual leader, His Holiness has always emphasized that Buddhist teachings must be subjected to rationale thinking and scientific analysis. This, he pointed, has added a new dimension to the practice of Buddhism. 
"The liberty of critical analysis of ancient Buddhist teachings is bound to take us to higher level of understanding; particularly among the younger generation who while keeping pace with rapidly modernizing world, have a different perspective to religion and faith," he said and underscored the importance of rationale approach to assume Buddhism as an essential way of living rather than being a religion alone, will go a great way in ushering in a renewed era of peace, prosperity and spirituality.
The Chief Minister announced that in order to carry forward rationale thinking and scientific analysis of Buddhist teachings, a better infrastructure would be built at Yid-GaChoszin and convert it as a Centre for Buddhist Learning.
"This centre shall organize Buddhist teachings by different sects and traditions of Buddhism and organize seminars, debates and classes for dissemination of knowledge focusing on the essence of Buddhism with its relation to scientific analysis and secular ethics," he informed.
Hailing His Holiness as the world wide apostle of peace, Khandu said he has been for all the time, a strong ambassador of non-violence and it is therefore rightly said that His Holiness is to the 21st Century what Gandhiji was to the 20th century.
"The world today requires the divine presence of Your Holiness more so in the present day when it is being torn apart by hatred and violence in many parts," Khandu said. 
Humbly reminding the Dalai Lama that Tawang is the birthplace of His Holiness, the VI Dalai Lama Gyawa Tseyang Gyatso and an important seat of Buddhist Dhamma, the Chief Minister submitted that the people of the region wishes that a Kalachakra Initiation by His Holiness at Tawang in coming years.
Profusely expressing gratitude to His Holiness for taking all the pain to travel by road to be amongst the people of Monyul, especially the old, the infirm and all who otherwise could not afford to seek his blessings elsewhere, the Chief Minister recounted the privilege first bestowed on the people when a young Dalai Lama entered the land at Chu Dagma, Kenzamani 58 years ago in 1959.
"We were the fortunate ones to receive your first Dharma sermon in exile at Tawang monastery in 1959. It had immensely benefitted us to hold the Dharma with firmer conviction. In your subsequent visits, Your Holiness has blessed us with various preaching. I am sure that the preaching that we have received here this time will add to benefit us in understanding Dharma and to follow the righteous way of living together with humane values, love, peace and compassion," Khandu added.
The last visit of His Holiness to Arunachal Pradesh was in 2009.
The Chief Minister expressed hope that His Holiness would make many more such visits to the state and assured all out cooperation by the people. He also expressed gratitude to the Central Government under Prime Minister Narendra Modi and the Central Tibetan Administration for facilitating the visit of His Holiness to Arunachal Pradesh.
Present on the occasion were eminent Rimpoches, Monks and Nuns from near and far off places, Parliamentary Secretary Jambey Tashi, local legislator Tsering Tashi and several guests and devotes from other countries.
Meanwhile, His Holiness laid the foundation stone for a Government Degree College here amidst religious chantings.