North East
Shillong-BSF seizes huge number of Cattle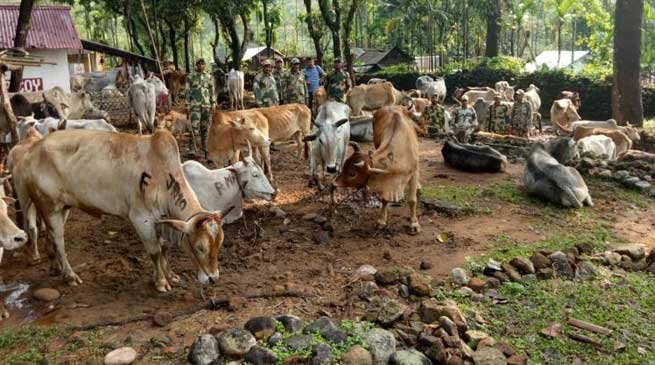 Shillong 
Cattle smuggling on the Indo-Bangladesh border in Meghalaya seems getting rampant, despite the Border Security Force foiling these attempts effectively. But the never-ending demand from Bangladesh keeps fuelling the illegal act. The BSF troops once again showing constant alertness on Indo-Bangladesh border in a joint operation with Meghalaya police, seized a huge number of cattle i.e. 92 Nos worth more than Rs. 15 lac  in the jungle area of village Nongskhen Ps- Pynersula, East Khasi Hills district of Meghalaya while being smuggled to Bangladesh. The cattle smugglers are dumping these cattle near International Border in the forested area and look for opportune moments to cross them over to Bangladesh. The smugglers on both the sides on Indo-Bangladesh border are continuously in touch and keep tracking the movement of BSF patrols to find chance to smuggle the  cattle  to Bangladesh   .
The Border Security force has also sought cooperation of local police to enhance operations against these cattle smugglers in hinter land also. Smugglers have been using various tactics to smuggle cattle from roads going towards border from Shillong, Jowai and Ampati. The Border Security Force has intensified its operations on the Indo-Bangladesh Border to prevent Trans-border crimes. Vigilant BSF troops have been effectively dominating border and foiling the ill attempts of smugglers to exploit the unfenced border area for smuggling.
Though mutual understanding between police and BSF has now started yielding seizure. Sudden increase in cattle smuggling has resulted in the reciprocal alertness on the part of the Sentinels of Border also.
The BSF has seized 178 Nos cattle, and contraband items worth more than Rs. 41 Lacs, while being smuggled out from India to Bangladesh on the International Border along Meghalaya during last week.
All the seized items handed over to concerned department for further legal action.