North East
Rajen Gohain flags off DEMU train between Silghat & Guwahati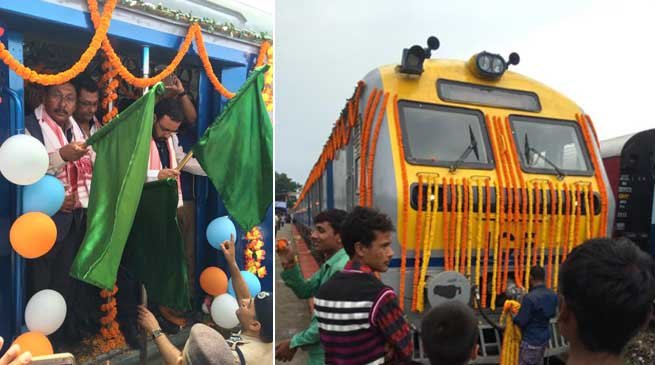 Guwahati
Taking another step in Railway's commitment for providing better commuter service, the Railway Minister of State Mr Rajen Gohain flagged off a Diesel Electric Multiple Unit (DEMU) train between Silghat Town & Guwahati this morning at a ceremonial function attended by the Minister for Water Resources etc, Govt of Assam, Keshab Mahanta and senior railway officials including the General Manager Chahatey Ram.
Later, furthering Railway's commitment for providing better amenities for passengers, Minister of State (Independent Charge) for Communications and Railways, Mr Manoj Sinha inaugurated a filtered drinking water facility for passengers at Silghat Town Station.
Flagging off the DEMU train, Rajen Gohain said, the new service will greatly benefit the sub-urban commuters within a 200km radius by providing a faster, efficient daily link with the capital city of Guwahati. He said, Railways is planning for more rail connectivity from Central Assam to the rest of the country. S
Gohain said that Silghat Town station was established in 1920 and is one of the oldest stations of N. F. Railway. As the station is going to complete 100 years in few years time, N. F. Railway has drawn up plans for upgradation of the station including construction of high-level platforms and construction of Pit Line and Sick Lines. These works will be taken up in the current year, he said.
The Minister of State for Railways, Manoj Sinha in his speech emphasised the developmental efforts of the Railway Ministry towards the northeast and said that the investments in railway infrastructural works in the region had increased considerably during the last two years. He said, every year the railways also spend a considerable amount on providing better passenger amenities.
It may be mentioned that N. F. Railway has approximately Rs. 22 core on new drinking water facilities in the last two years. Filtered drinking water through vending machines will be made available at 10 more stations during this year.