Arunachal
Taram announces 1.36 lakhs for new academic block of Kokila Secondary School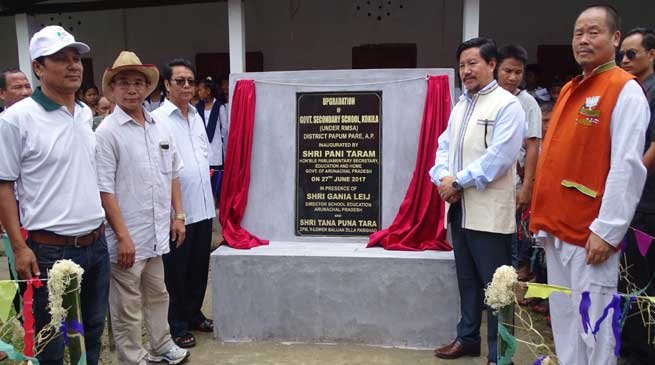 Itanagar
Parliamentary Secretary (Education & Home) Pani Taram announced  announced 1.36 lakhs for new academic block of class IX & X to upgraded Secondary School Kokila. He also informed that Six subject teachers have already been posted and they will be joining shortly. He made this announcement while  inaugurating the upgraded Kokila Secondary School in Balijan Circle today.
Addressing the huge gathering after the inauguration,  Taram said that the Government is parent and it is natural to take care for its people across the state
Taram also congratulated the people of Kokila area for getting the school upgraded which will benefit the students of the Chessa, Sunajuli, Kokila and Hollongi area as there is no Secondary School in the Circle and students have to go either at Banderdewa and Balijan and faces lots of incumbencies and problems for long time.
"School is a temple of learning" children should come to learn, since it is a comparative world and passing will not give the meaning but one have to learn to serve himself first then to family and state in the larger interest of the society otherwise the future will be dark. The upcoming generation need to learn properly get their academic activities sincerely with devotion so as it would be a human treasure for the state and nation Taram said.
He said that since the area is bordering Assam and peace and tranquillity need to be maintained for its development and appeal the misguided youth to join hands for the development of area. Due to westernisation some of kits and kins mind are diverted and are involved in drug and other activities which need to be stopped by saying "Bache ma bap ke chirag hote hai" and  appeal the parents to take care of their ward when they are in the school in getting a quality education Taram added.
Responding to the memorandum Taram announced to fulfilled all the demands one by one within this year which include construction of four unit Type-II qtrs for teachers, Boundary wall,  LDC cum computer operator and appointment of Choukidar while Type-III qtr for Headmaster, he said commencement of CBSE centre could only be possible after formalities fulfilled and requested the DDSE to include the proposal for construction of 50 boarders girls hostel under SADA in next year.
Director (School Education) Gania Leij said that Education scenario of the state have been lowering which have been reflecting through the result of the examination since 2010 onward. The one reason was no detention policy which will be abolished shortly.  Due to CCE policy was also a reason which might created communication gap between students and teachers and being changes shortly. The state government have been pursuing the matter for upgrading of the education system of state and adopted as zero tolerance and many steps have been taken up to revive the system Leij said.
Papum Pare BJP District President Tana Hali Tara, Balijan ZPM Puna Tana Tara, public leader Tana Jirjo among other address the gathering.
ADC Balijan ChukhuTakar, Papum Pare DDSE S.T Zara and other HODs of the Balijan Circle, PRI members, GBs and large numbers of local people of the area and students of the school was present on the occasion
Taram & Leij also donated few important necessary daily use items, sports items and sweets to the school children.