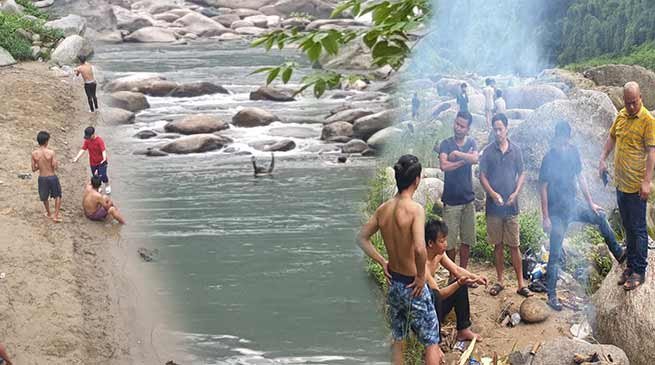 SWC appeal CM, PHED Minister and CS to intervene for protection of  the contamination of drinking water supply source (WTP) at Senki View.
---
Itanagar
By Manoj Singh
The Public Health Engineering Department (PHED) have been totally failed in protecting the drinking water supply source from contamination at Senki View in Senki river, alleged the local resident. They appeal Chief Minister, PHED Minister  and Chief Secretary to intervene into the matter
The Senki View welfare committee (SWC) have approached the PHED department and capital district administration and even to local police about nuisance created by the youths in the vicinity of the Water Intake plant located at Senki View on the bank of Senki river but all are adamant and overhear and no action have been initiated only except few signboard erected and statutory order are issued administration.
SWC Chairman Kipa Lolgo inform that "we on several occasion have approached the PHED department, Capital district administration to stop the outsiders specially youths who visit the river in the name of taking bath and organised party till late night. Several accident have been reported in paste but who care.
It have been observed that the groups of youths also accompanied with bleaching powder, chemicals, soaps and other detergents/substances and throw in the river which are very harmful for the aquatic life as well as the same water is lifted to the Water Treatment Plant which are supplied to the denizens of Itanagar city through pipelines. There are chances of caught of any disease due to impure water which doctor only can say. Lolgo allege.
Several pet animals have been killed during the party. Plastic cover of chips, waterand beer bottle, waste meat of pet animals, and other garbage and being thrown by youth who organised picnic and party.
He urge upon the Chief Minister who is a young and can understand the water contamination problem and appeal Chief Secretary and PHED Minister to immediately take action for protection of Water treatment plant. Lolgo added.
SWC General Secretary Kale Cheda said that we the local resident are facing lots of problems due to huge influx of outsider with hundreds of vehicles in the colony who parked their vehicle in front of the local resident and due to which there have been quarrel with the local resident and several have been assaulted by them.
SWC IPR Secretary Tamchi Niania said that  PHED department have also tried its best effort to stop the outsiders from entering into the river side and have created boundary fencing, iron gate but who care and they overpower the choukidar and twice the Choukidar have been assaulted.