Itanagar
Arunachal: ECI team meet with Candidates of Koloriang, Palin and Tali constituencies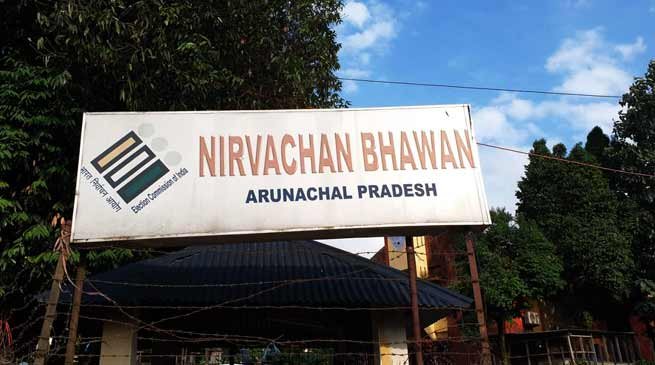 Palin was represented by INC candidate Takam Pario, BJP candidate Balo Raja and JDU candidate election agent Dolang Tako .
---
Itanagar
The " One to one meeting" with candidates and their election agent of 21 Koloraing, 18 Palin assembly constituency and 20 Tali assembly constituencies held here on Tuesday at the conference hall of the Nirvachan Bhawan.
The three members team of senior officers deputed by Election commission of India (ECI) New Delhi have one to one meeting with all stake holders of 21 Koloriang assembly constituency of Kurung Kumey district which was represented by NPP Candidate Pani Taram and BJP Candidate representative Ha Tatu, the 18 Palin Assembly constituency and 20 Tali assembly constituency of Kra Daadi district representation were also seen.
Palin was represented by INC candidate Takam Pario, BJP candidate Balo Raja and JDU candidate election agent Dolang Tako  while Tali assembly constituency was represented by BJP candidate Thaji Gichak Kiogi and JDU candidate Jikke Tako while the representation of INC candidate or its election agent was not seen.
After meeting with the stake holders of the three assembly constituency of Koloriang, Palin and Tali the team of official of the ECI also meet all the Returning officers of the respective assembly constituency wherein District election officer cum Deputy Commissioner Kurung Kumey district Santosh Kumar Rai, former DC of Kra Daadi district Solung Miji, former ADC Tali  Biaro Sorum also attended the meeting.
Watch Video
Earlier on May 12 and 13 a official communication issued by Nirvachan Bhawan, Arunachal Pradesh vide letter No, EN/OP/CE-21/19 dated May 12 2019 and EN/OP/(CE)-21/2019 dated May 13 2019 about the election commission of India (ECI) has constituted a team of officers to examine various complaints received at commission at New Delhi for and against the Re-poll on 27/04/2019 in the respective assembly constituency under Kurung Kumey district election officer on May 14 from 4 PM onwards.
All the candidate and their election agent or representative interacted the media at the Nirvachan Bhawan campus today before and after meeting the ECI team.
Koloriang NPP candidate Pani Taram, briefing the media said that he have submitted his grievances and claim and demand for re poll at 24 Taba polling station under Damin circle and 28 Nampe polling station under Paniasang circle while the representative of BJP candidate Ha Tatu inform that he have objected the re-poll citing the poling on April 11 was peaceful and re-polling on April 27 was also peaceful but several voters of two polling station are students, government servants and others and several are pursuing the studies outside the state and conducting election again and again is not good in the greater interest of the public of the area. Tatu added.
18 Palin INC candidate Takam Pario levelled various charges on opposition candidate and their supporters and demanded re-poling at 38 Rakso polling station and 30 Raibalo and said that democratic process was not held properly and several genuine voters was not allowed to caste their valuable votes due to several reasons. Several representations at various level was submitted and demand justice and re polling. BJP candidate Balo Raja on other hand clarified his stand that the poling process was almost peaceful and clarified allegation of Takam Pario of Rai balo polling station while Election Agent of JDU candidate Dolang Tako said that there was satisfaction by all candidate during the scrutiny process held at Koloriang but now demand of re polling by INC candidate does not arise. Several voters of Rakso reside at Itanagar and Palin who have caste their vote were objected. However both BJP candidate Balo Raja and JDU candidate election agent Dolang Tako demanded disqualification of INC candidate.
20 Tali BJP candidate Thaji Gichak Kiogi inform that the election process in Tali assembly constituency was peaceful while due to communication disruption and bottleneck the polling of Gimba was not held at Gimba however it was held as per rule and oppose re polling demand at Gimba while demanded immediate retrieval of EVM of 18 Zara polling station which is yet to received at DEO office Koloriang. He hope that the ECI will act as per rule and regulation. On the other hand JDU candidate Jikke Tako said that he have submitted grievance on 6 Gimba polling station for re poll and demanded that justice will be delivered by ECI early, Tako also demanded early retrieval and airlifting of  EVM of 18 Zara and rubbish all allegation against him.
As per high level sources it is to mention that DGP In-charge Sunil Garg, Home Secretary G S Meena was also present in the meeting which was chaired by a senior IAS officer from Mizoram,  Ashis Kundra and two others. The sources also inform that report of today meeting may be sent to the election of which the decision may be taken by election commission soon.