Itanagar
Pani Taram appreciates the role of NGO United Charity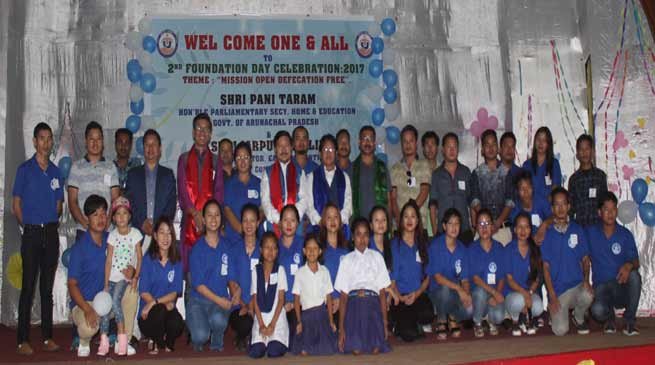 Itanagar
The working style of Itanagar base NGO, United Charity (UC) is very different from other NGO or Society, UC is focusing more in welfare of people instead of self benefit said Home and education parliamentary secretary Pani Taram while attending as chief guest in the 2nd foundation day celebration of United Charity here at Siddharta Hall today.
Addressing the gathering in the occasion Taram said that there is more than 5000 registered NGOs and many unregistered NGO and all are came up with good motive for welfare of state and its people but maximum of them has diverted from their motive and started looking for individual profits. And their motives also changed for self profit. Always want to popular through Media and social media
While appreciating the working style of the UC the Taram said UC is one NGO who is silently working for the welfare of people especially Education and health sector And never thinking for the self benefits .  Appreciating ,the themes of "Shiksa Hi shakti " which was started by the UC team by adopting school and giving free tuition to student of govt. middle school IG park along with personal development and other curricular  activity to student. Taram said that government also giving first priority to the both Education and health sector with zero tolerance policy.
Further, Taram  also assure the he will bring up to government or up to chief Minister about the UC and its working style. And he also advice the UC team keep its works and always do works for the welfare of people which is main motives of an NGO.
Attending as guest of honur Jarpum Gamlin founding editor of Eastern Sentinel, appreciating the all the active members of the UC and its working style , he said that to run a NGO is very difficult every one cannot run and I have seen many leaders of organization, NGO diverted  their motives and started for self benefits.
He also said that there is many numbers of NGOs in country, many of them has been misused and sale their motive by their leader. He also said that some time some NGO group had been funded by foreign country  to do works against country's development or create problem in country. He also highlighted about terror funding at Jamu and Kasmir and now Indian government is stopping the foreign funding in country's NGO he added.