Itanagar
Arunachal:  CoSAAP  implementation of revised allowances as 7th CPC.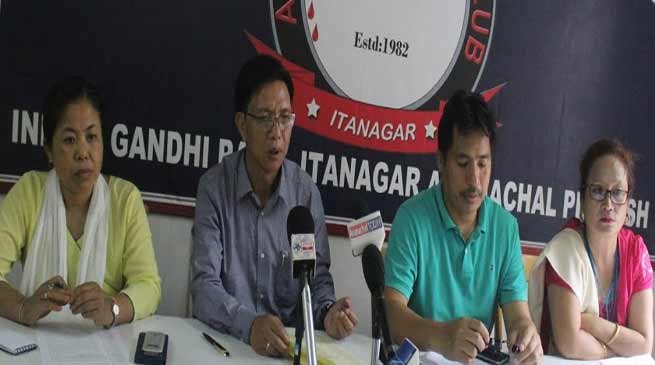 Itanagar
The apex employees' organisation of state Govt. the Confederation of Service Associations of Arunachal Pradesh (CoSAAP) today demand Immediate implementation of Revised Allowances as per recommendations of Seventh Central Pay Commission ( 7thCPC) for State government by following the committee reports of Abdul Basit, Director (Audit & Pension).
Strongly opposing the new constituted committee by the State government for examine the  Revised Allowances of State government employee, the CoSAAP President Pate Marik said that  State government is doing partiality between State government employee and Central Government Employee who are serving within State in implementation of Revised Allowances.
The state Govt. of Arunachal Pradesh has implemented the Basic Pay as recommended by Seventh Central Pay Commission after notified by Central Govt. for state Govt, employees. But the Revised Allowances such as Non-Practicing Allowance (NPA) for doctors, House Rent Allowance (HRA), Tough Location Allowance (TLA), TA/DA Rules, Children Education Allowance (CEA), Transport Allowance and etc. are still pending, Marik said
However  the  state Govt. on 2nd April 2018, has granted House Rent Allowance (HRA), TA/DA Rules, Tough Location Allowance (TLA) and Children Education Allowance (CEA) for All India Service Officers who are serving in State, he added.
Instead of implementing above allowances government has constituted a committee under the chairmanship of Development Commissioner (Finance, Planning & Investment ) including four officers to examine the same. Whereas there was a committee duly constituted by state Govt, under the Chairmanship of  Abdul Basit, Director (Audit & Pension) has already examined the same and submitted the report positively. And the constitutions for another committee on the same issue are illogical, unnecessary and time buying he added.
Demanding immediate restoration of All India Medical  Attendance rules, Marik said that on the matter there was discussed with then I/C Chief Secretary and State Chief Minister 29th June 2017 and 3rd April, 2018, respectively, where decided to order/restore the old system of Medical, Re-imbursement, but no order has been made by the State Govt. till date.
On timely conduct of Departmental Promotion Committee (DPC) as decided by the State Govt. has decided and Ordered for conducting of DPC twice in a year. But the several state Govt. departments are not following the order and due non-conduct of DPC timely. And due to not conducting DPC timely the genuine government employee are not getting promotion on time.
 Therefore he urged government to take strict action the defaulting department(s) for not following the direction of the State Cabinet.
CoSAAP secretary general Gonya Riba said that in the name of lack of fund the every time state government refused to implement Revised Allowances. Whereas the honorarium of lawmakers and Medical allowance were increased to many folds.
The organisation condemn the act of the state government for not fulfilling the genuine demand of its employees who are delicately and sincerely serving in the greater interest of the state and its people and threatened go to employees if the demands are not meet within a month and so on, both President and Secretary General said
a