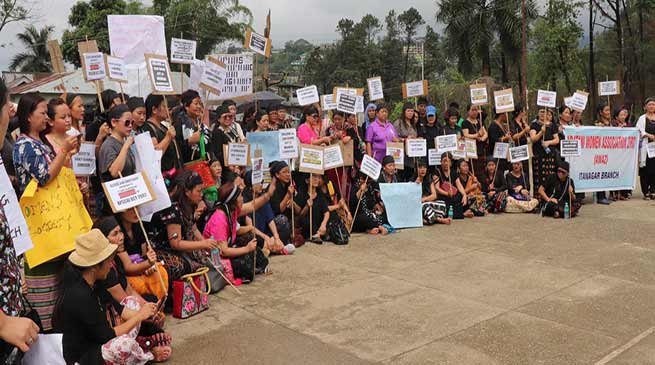 Itanagar
Arunachal Pradesh Women Welfare Society (APWWS) today staged a protest march against the appointment of  the three members and Chairman of the 5th Body of Arunachal Pradesh Women Commission ( APWC )by the state govt.
The members raising play cards, tightening black ribbon in heads shouting slogans against the state govt  and alleged that the these appointment  is violated all norms,  guidelines and system.
Addressing the gathering APWWS President Depti Bengia Tadar  said that the movement is not against any political party or anyone, we are protesting this to apprised all that some illegal activities have occurs in the Women Commission.
Spokesperson Gumri Ringu said that It is matter of great concern that how three members including a Chairman appointed without empanelment and that too without applying well within time framed, she appeal to boycott of any function of the commission if ratification is not done soon.
Senior Members and APWWS Advisor Jarjum Ete said that 'We are optimistic and hope that the young Chief Minister may take a positive note and take a wise decision in the greater interest of the women folk of the state'.
Executive members also interacted with media and raised the issue and demanded immediate action and justice by the government.