Itanagar
Connectivity is the critical constrain for development of Arunachal, Says Niti Ayog VC Dr Rajiv Kumar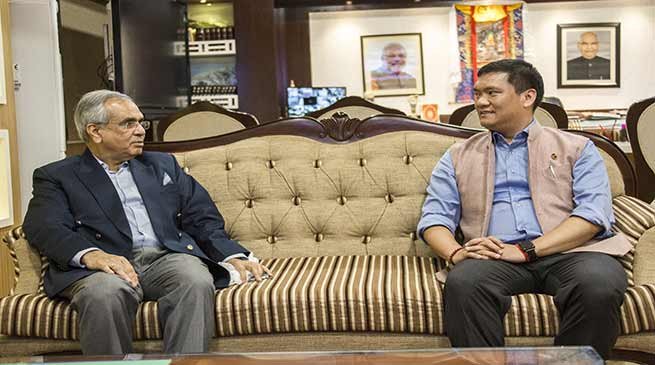 Itanagar
Niti Aayog Vice Chairman Dr Rajiv Kumar today cited 'connectivity' as the critical constraint for development of Arunachal and urged the state government to concentrate in mitigating the constraint with a proper vision and plan.
Dr Kumar, who is on a visit to Arunachal Pradesh, today held an elaborate meeting with the Chief Minister, Council of Ministers and top state government officials headed by the Chief Secretary. Dr Kumar is accompanied by Jitendra Kumar, Adviser (NER), Niti Aayog.
"I believe robust connectivity will solve all issues of the state and therefore the state government with all its machinery has to singularly focus on this issue together with Niti Aayog for a road forward," Dr Kumar said.
He asked the state government to constitute a Task Force and evolve a white paper on how to go about in dealing with this 'constraint' in a time bound manner.
"You need to have a clear-cut vision document and a time bound action plan. We at Niti Aayog will bring all relevant ministries on the table and make a roadmap for Arunachal Pradesh in this direction. Everything (all kinds of development) will follow once the issue of connectivity is resolved," he pointed.
Appreciating Chief Minister Pema Khandu's proposal to host a regional conference of the Niti Aayog to be attended by all the North Eastern states, Dr Kumar said it would be a perfect platform for the states to put their respective white papers on their needs, priorities and the action plans to achieve these.
He advised that the white paper or action plan be based on the Prime Minister's New India Mission 2022 program.
"You can call it as New Arunachal Mission 2022 that will give a concrete road map and its implementation in a time bound manner. This will sync with the Prime Minister's vision for a new India by 2022 when development will take the shape of a mass movement and not remain confined to elites or governments," Dr Kumar said.
When suggested that Niti Ayog should not generalize plans as a state like Arunachal Pradesh has its specific needs under specific circumstances and schemes suited for other states may not be suitable for Arunachal Pradesh, Dr Kumar said that 'Niti Aayog has left making plans and schemes'.
"We do not plan for you. You plan for yourself and tell us what we can do for you," he said.
Earlier, Development and Finance Commissioner Ashish Kundra made a power-point presentation detailing the potentials and challenges before the state.
The meeting was attended by Deputy Chief Minister Chowna Mein, Power Minister Tamiyo Taga, Education Minister Honchun Ngandam, Civil Supplies Minister Kamlung Mossang, Urban Development Minister Nabam Rebia, PHE&WS Minister Bamang Felix and Advisor to CM Tai Tagak.