North East
Women Empowerment: A Red Horns Division Initiatives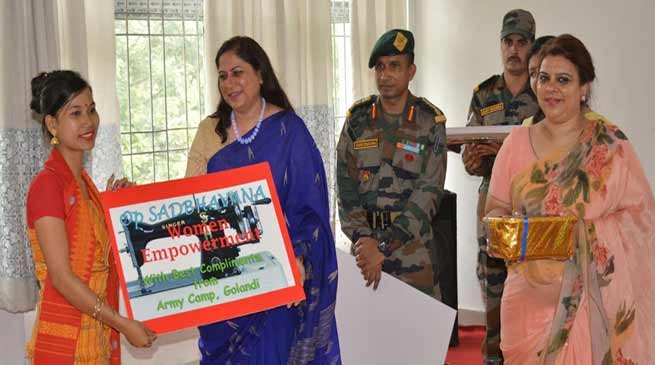 Tezpur
The Indian Army has been actively involved in reconstruction and reconciliation of the society in a post conflict scenario apart from containing insurgency in Assam.  It is categorically being done through systematic originating of various social welfare initiatives undertaken to develop an alternate self-sustained way of life.
One among such initiative has been undertaken by Red Horns Division ie a project of conducting tailoring classes for women of Udalguri district aimed at emancipating economic conditions and earning a livelihood through self-employment. The Army brought about a break through by selecting deserving candidates from BPL families to enrols for free tailoring course.
A total of 30 women were selected to undergo the tailoring course at Udalguri town for a duration of two months starting from 04 Jul to 06 Sep 17.  The candidates are a mix of Bodos, Biharis, Nepalese and Adivasis. Training was imparted by professionally competent instructors from an NGO named 'Live Green' affiliated to Pradhan Mantri Kaushal Vikas Yojana (PMKVY) based in Udalguri town. Classes were conducted under close supervision of Army  by adhering to disciplined and convenient schedules. The course also aimed at enhancing self confidence and entrepreneurship skills with programs designed for overall personality development of the candidates to enable them to carry out their job in a more professional manner.
On 06 Sep 17 a closing ceremony was conducted where Mrs Annupma Bedi, Zonal President AWWA Gajraj Corps was the Chief Guest. Other dignitaries who graced the occasion were Mrs Tripteen Kaur Behl, Chairperson Family Welfare Organisation, Red Horns Division, Mrs Sadhana Hojai, DC Udalguri.
A cultural program was also organized that projected the integration of all cultures of Assam living in harmony and peace.  The Chief Guest distributed sewing machines to all the 30 candidates who successfully completed the tailoring course.  In addition, a starter kit was presented by Mrs Tripteen Kaur Behl and a certificate of proficiency was handed over by DC Udalguri to all the candidates.
The Chief Guest Mrs Annupma Bedi also interacted with the young ladies of Udalguri and Darrang district aspiring to join Army as officers and who are preparing for the upcoming CDS examination, to motivate them to achieve their dreams.  The local population as well as the district administration lauded the efforts of the Army for venturing out in encouraging self-livelihood and employment to the local populace and especially its contribution to women empowerment.