Arunachal
Khandu, Kiren and Tapir air-dashed to Gensi to see off Jomde's last journey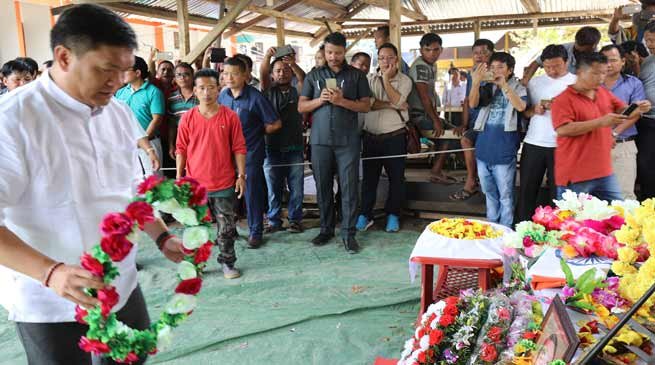 Gensi
Health and Family Welfare Minister Jomde Kena, who breathed his last on Monday at a Guwahati hospital, was today laid to rest at his hometown Gensi in West Siang district amid state mourning in his honour. Thousands thronged the Kena residence to pay their last respects to the departed leader, who despite hailing from a poor background went to become a cabinet minister and an inspiration to the youths of today.
Chief Minister Pema Khandu cut short his Delhi visit and air-dashed to Gensi, along with MoS Home Kiren Rijiju and state BJP President Tapir Gao, to see off his cabinet colleague Jomde Kena on his last journey.
Khandu remembered Late Kena as one of the most down-to earth persons who always had a smile playing whatever may be the situation. He called him a fighter, who even fought death till the last moment.
"As a minister and as elected representative of 28 Likabali Assembly Constituency, Late Kena did a lot. He would have done more for welfare and development of his constituency and the state if his life was not cut short. I assure you all his visions and dreams for his people and the state will be fulfilled. That's the best tribute we can give to him," Khandu said.
He requested the people of the constituency and Late Kena's family members not to feel 'orphaned'. He said the entire Cabinet and Legislators are with them and they will not let the late leader's absence be felt.
Rijiju also remembered Late Kena as a trustworthy, energetic and ever-smiling friend. He recalled his many interactions with the late leader in the earlier years of his political career, especially during Rijiju's elections to the Arunachal West Parliamentary constituency.
"Till the last moment, he was smiling and consoling us that everything will be alright," Rijiju said.
Like Khandu, Rijiju too assured that all dreams and visions of Late Kena will be fulfilled.
BJP State President Tapir Gao, who shared a great rapport with Late Kena, narrated various interactions and incidences with him. Gao broke down while recalling his last conversation with Late Kena over phone.
Covered with the tri-colour, late Kena was laid to rest with full state honour.
Those who joined the last rites included Deputy Speaker Tumke Bagra, Home Minister Kumar Waii, Education Minister Honchun Ngandam, PR & RD Minister Alo Libang, Veterinary & Animal Husbandry Minister Dr Mahesh Chai, Parliamentary Secretaries Pakgna Bage, Likha Saaya, Nyamar Karbak and Zignu Namchoom, MLAs Gojen Gadi and Jarkar Gamlin, Lok Sabha East MP Ninong Ering, former Chief Minister Gegong Apang, West Siang deputy commissioner and SP and others.
Born on December 31st 1967 at Taramori village under Gensi circle, Late Kena lost his father at the age of 6 but pursued his studies besides taking up business at a very young age. He ventured into active politics by contesting for anchal samiti member and winning it. He went on to become a ZPM during 1992-97. He contested election for the first time as an independent candidate in 1999 but faced defeat. He re-contested in 2004 again as an independent and won comfortably. Since then he never looked back. He won the 2009 elections on INC ticket and became Parliamentary Secretary (IT, Science & Technology) and subsequently got elevated to Deputy Speaker. After the 2014 elections he became Parliamentary Secretary Transport, Land Management, Civil Aviation and Cooperation and later became Minister Transport. In 2016 after Pema Khandu became the Chief Minister, Late Kena was inducted as the Health & Family Welfare Minister. He held the post till his dying days.
Late Kena is survived by his wife Dajum Nada Kena, four daughters and two sons.