Arunachal
Tomar Assured Sufficient Funds for Surface Connectivity in Rural Areas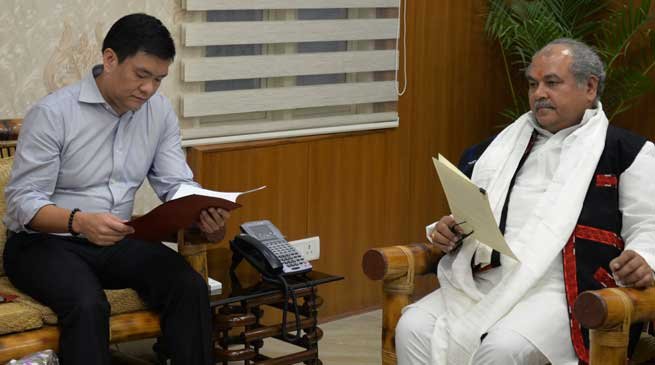 New Delhi
Union Rural Development Minister Narendra Singh Tomar has assured sufficient funds from the Center to Arunachal Pradesh to provide surface connectivity in rural areas of the state. He, however, pointed that a two-month programming would be done for Arunachal to monitor the progress of ongoing projects .
Tomar also assured to evolve a mechanism to discuss the possibilities of increasing the length of bridge span and relaxation of population criteria in respect of Arunachal as requested by Chief Minister Pema khandu who had called on him late Friday evening.
"The PMGSY norms doesn't permit to provide funds for maintenance of already created rural road infrastructure but we have a provision of awarding the states with additional funds whose performance are very satisfactory and projects completed well in time with assured quality," Tomar informed khandu.  He asked the state government to take up aggressive approach in getting the ongoing works completed.
Khandu, accompanied by state RWD and Home Minister Kumar Waii, apprised the Union Minister that the Pradhan Mantri Gram Sadak Yojana (PMGSY) has significantly improved the rural connectivity besides developing other rural infrastructure.
Khandu, however, submitted that the guiding principle of PMGSY advocates connectivity to habitations having population of 250-plus independently/with cluster mode in the hilly areas as per 2001 census.
"The state has about 76% habitations under the category of less than 250 populations and due to such a criteria, a large number of people are being deprived of road connectivity. Therefore, this criterion needs to be relaxed to cover habitations of 100 populations as a special case," the Chief Minister advocated.
While informing that all-together 137 road works were in various stages of completion covering a span of nearly 1000 kms, Khandu requested the Union Minister to enhance the tentative allocation of the ministry for the current financial year.
He further pleaded to approve 162 new roads including 53 long span bridges, covering 343 habitations, which have been in principle approved in the empowered committee meeting.
Khandu while thanking the Union Minister for enhancing bridges span from 75 mtrs to 100 for Arunachal Pradesh, requested for further enhancing the bridges span to 150 mtrs on major rivers and tributaries particularly in the border areas. He also requested a one-time maintenance fund for rural road infrastructure already created in the state.
Besides the state RWD Minister, the Chief Secretary and department officials accompanied the Chief Minister.