Sports
Sanjoy appeal the footballers to play in team spirit with brotherhood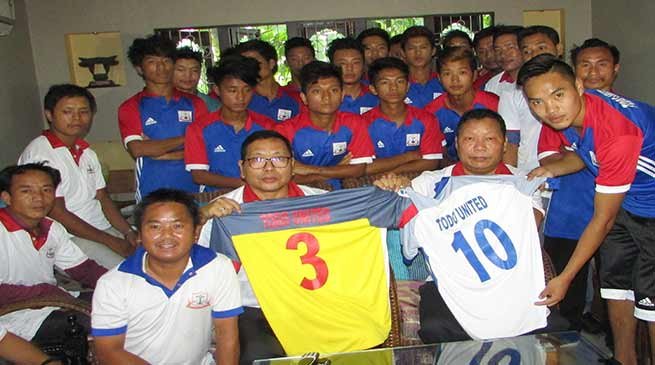 Itanagar
Arunachal Football Association President Takam Sanjoy today fervently appeal all the football players of ensuing TK Arunachal Super league to play in team spirit with brotherhood.
Sanjoy was addressing the players of Todo United during the launching of jersey said that players should play any game with sincerity with zeal. Discipline on part of club and players will put the team effort of club, organisation and government for a professional play and players.
He said that there is a need of professional club as like in other parts of country which would come up for popularity of football for each and every family and it could build our health and society and unite the people of Arunachal Pradesh. He said that due to lack of infrastructure previously players could not come up in large numbers but the club which is professional may get registered in AFA and the organisation shall look forward from the state government for active support for popularity of football in professional way so that professional players come up and play for state.
He however appeal the audience to maintain patience during the game and not to demoralise the players during the play which would boost up the morale of the players for a good play with a competitive mind.
Sports Authority of Arunachal Vice Chairman G Doke also appeal the payers to maintain team spirit with discipline and adhere to the guidelines of the super league.
TUFC Chairman Takam Dado Tallom while said that TUFC have been doing well since its inception and have given platform to many players and some of them have played in Assam, Kerala and New Delhi and the defending champion of last year will meet Capital Complex Football Club and hope that the game would be interesting one and appeal all team members to be united.
DCC Kra Dadi district Techi Ajad, Coach Tarh Juna among others were present during the jersey launching programme.