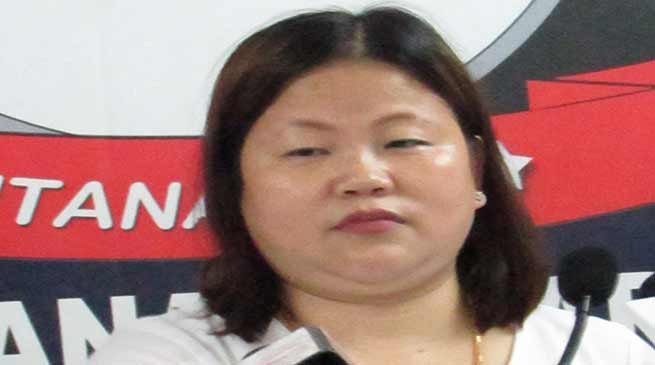 Itanagar
By Manoj Singh 
Hayuliang MLA Dasanglu Pul, third wife of  former Chief Minister late Kalikho Pul opposed 12 hour Capital complex bandh called by Mere Vichar Andolan Committee  (MVAC), alleging that that MVAC has got nothing to do with our family.
Addressing media person here at Arunachal Press club today MLA Pul said that my entire family have been greatly disturbed and extremely pained with the continuous upheaval being raised over on "Mere Vichaar" written by my late Husband and former CM Late Kalikho Pul by the so called Mere Vichaar Andolan Committee.
It is true that my late husband had raised many issues in his 60 pages Mere Vichaar note. The State Government has however sent these notes to the Union Home Ministry for a thorough investigation by any suitable agency. Me and my family are satisfied with the actions taken by the State Government for conducting Inquiry on the contents of the 60 page Mere Vichaar. In fact, we are grateful to the State Government for its actions. Now we should waith for the outcome of the inquiry which will decide the further course of actions, if any, to be taken by our family in this regard She added.
The issue of Mere Vichaar and Its content have been taken up by some organizations at several forums. We the family members somehow feel that it is largely politicized and is being used to garner political mileage by these organizations, which is very unfortunate.
She said that instead of serving the people's interest, this bandh will adversely affect the common public. This would definitely hurt the departed soul of her late husband.
she also said that the steps taken by Mere Vichaar Andolan Committee has got nothing to do with our family and we are rather opposed to this band!' call given by MVAC. I on behalf of the fan hereby make this humble appeal to all the people of Capital Complex to defy this bandh call which is in nobody's Interest.
While responding the question media, She said that she wants justice and still waiting response of Union Home Ministry. Responding question of FIR filed by all wife, she said case may be registered or if nor registered it would be registered Pul said.
When asked about half of family members like first wife and son are fighting for justice and her stand Pul said that she would appeal the first wife to take the decision in consultation with all family members.
When asked about any pressure from state government she said that there is no political pressure rather she was willing to meet press much earlier.