Itanagar
Land acquisition is a state subject- ADG (MORTH)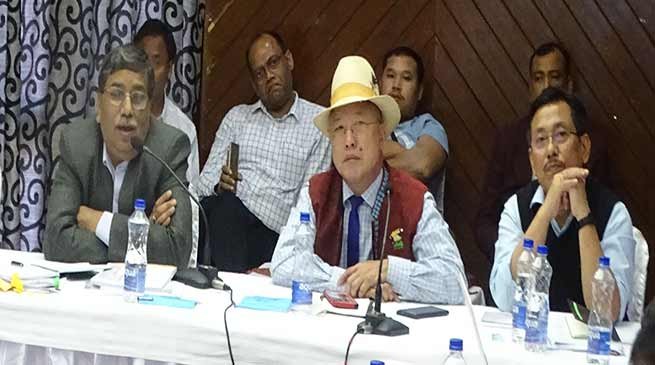 Itanagar
By Manoj Singh
Top official from Ministry of Road Transport and Highways  (MORTH) review various road project in Arunachal Pradesh at a meeting held here at Conference Hall of Hotel Asoka which was attended by various agency including PWD, NHIDCL and others.
Additional Director General, Ministry of Road Transport Highway (MORTH), Government of India I.K Pandey referring to delay in execution of Potin-Pangin road said that the land acquisition is a state government subject and it is surprise to know that even after payment already been made to the state government. However it is expected that it would be resolved soon and every problem have a solution. So far only 150 KM of land acquisition have been done on the said stretch of road, he said.
While reviewing the various  road project under Trans Arunachal Highway, CRF and other important  road project undertaken by the Public Works Department, National Highway Infrastructure Development Corporation Ltd, Border Road Organisation and MORTH and other project and  scheme 'Bharat mala',   Pandey said that mostly project are not being done as per the schedule  and  need to be taken care off by the concerned authority sincerely.
Pandey while observing that many projects were of delay in its construction period may be due to many reason and targeted achievement have not been achieved so far.
He appeal all to devote their time and energy as per resource provided by the Government of India from time to time for the development and connectivity to the people of the frontier state of Arunachal Pradesh. He suggested several measures and idea and use of technology and apprehension during the construction of road project which shall make easier the life line of the people in the modern world. He further directed all the stake holders to put more efforts and expedite the works for the early completion of various projects in time with quality.
In regards to the liability of the flood restoration work carried during last monsoon Pandey said that all request and proposal need to be send through with proper documentation in a package so that the matter is pursued with the ministry for consideration.
Commissioner PWD, Belatee Pertin in his address said that so many infrastructure is coming up in state and visiting by the authority give an importance to verify the exact improvement of the projects in state.
In state like Arunachal the MORTH is playing the lead role in the development of road infrastructure apart of PWD and BRO, He said.
Due to delay in land acquisition and NGT the project Potin-Pangin road and it is understand that it is at the verge of termination and how far it is true is not known. This particular of TAH need our special attention and appeal the ADG to expedite and ventilate the problems of the state.
Pertin said that all land in state belongs to tribal community and have own traditional system of land holding. Government lease out to user agency and stand as witness and the said land in many places does not belongs to government and when we plan to use we  have to go to public.
The RO who is holding dual charge of Assam and Arunachal which affect good coordination and suggested a separate MORTH RO for Arunachal Pradesh, state government have already written to GOI but no action taken so far.
He said the state have very limited time for work from October to March and due to heavy landslide and disruption of roads and bridge this year we did not get time to call tender and restoration have been done temporary basis at a cost of 10 crore and more than 112 crore is still needed from MORTH for permanent restoration. He said that we do not give works to any contractor without verification and appeal the ADG to reimbursed the amount for payments to the contractors under the helping hand of the PWD and Highway.
He appeal the ADG to pursue for payment through GOI at the earliest possible for payment to the contractors.
Regional Officer, (MORTH)  R.K Singh, Chief Engineer Incharge (Highway) SE Duggum Ete, Eastern Zone (Highway) S E,  S. Sumnyan elaborated all projects so far taken under the Highway through power point presentation. Representative from SUSHEE Infra & Mining Ltd,  TK Engineering Consortium Pvt Ltd, Dibang Bridge construction project, Putin-Panging road Project and engineers and other officials and consultants of various road project in the state were present during the day long review meeting.
NHIDCL DGM Hibu Tadey said that many roads in Arunachal Pradesh are under them including from PWD and BRO. A total length of 1061 KM of road in state are being  taken care by NHIDCL including  a project of Bharat Mala near Myanmar border. He also presented various road projects under their jurisdiction through power point presentation.
ADG ,I K Pandey who have been entrusted the position of ADG for the North East, West Bengal and Gujrat while talking to Arunachal24 said this is my first visit to state. The people of North East expectation is high and after announcement of scheme 'Bharat mala' many schemes are coming to the region.
On Potin-Pangin road Pandey said that every problem have a solution. Though the land acquisition subject is a state subject and it is surprise to know that even after so many years the land acquisition have not been done inspite of payment already been made to the state government. However it s expected that it is resolved soon and accordingly it is properly informed to the centre so as it is considered.
When asked about termination of the potin-pangin project Pandey said that it cannot be said right now about the termination or consideration without it clearance of all the required works.
Fault does lies solely on the contractor for not taking up the work due to land acquisition  and it need to be shorted out and depend on the merit of the case. He said.
So far two road project have been terminated by the ministry for not taking up timely which are in the Eastern Arunachal.
His attention was drawn on the pathetic road condition between Potin to Ziro, Pandey said that there is no fund in Flood Damaged Rectification (FDR) Work however around 10 crore was sanctioned for renovation work and is under progress and would be done by December 17.
Pertin while said that termination of Potin-Pangin road abruptly is not good and a chance need to be given to state government and we are decide with a positive note.
Eastern Zone (Highway) S E,  S. Sumnyan said that two project which already been terminated lies in Easter Sector of the state. The 1st project  Tirap district Khonsa-Tissa-Longding awarded in 2012 and contractor could not complete even half  portion in five year time and terminated in April 2017 necessary DPR under EPC mode is prepared for further completion.  The second project Lalpur-Monmo-Changlang has also been terminated and DPR is being prepared for further execution.
On Hukanjuri-Khonsa NH-315 (A) from 90 KM from Tinsukia to Khonsa was declared in 1992 which connect two state. 35 KM of stretch falls in Tirap district and as per provision of annual plan only 9 KM has been considered and we request the ADG to consider the balance stretch of road for the benefit of those district.